The caring, qualified staff at the Student Accessibility Center is committed to helping students with disabilities succeed at the University of Houston.
---
Kyle Mutz
Director
kjmutz@central.uh.edu
My name is Kyle Mutz and I am the Director of the Justin Dart Jr. Student Accessibility Center. It is an honor to be here at the University of Houston helping to support the disability community with the privilege working at the center which recognizes the amazing work Justin Dart Jr. did for people with disabilities. As a person who grew up with a disability, I understand the challenges and obstacles that people face day to day. I have spent my entire career working to serve others and help empower them with education and awareness. As a former wheelchair racer athlete representing the United States, I have been fortunate to travel the world and experience different cultures and educate myself universally how disability impacts people. In my free time I enjoy spending time with my wife, dog Bella, friends, and family. I am also an avid gamer and adventure in trying new foods. I am dedicated to making the Justin Dart Jr. Student Accessibility Center the very best it can be for all students with disabilities and the University of Houston.
---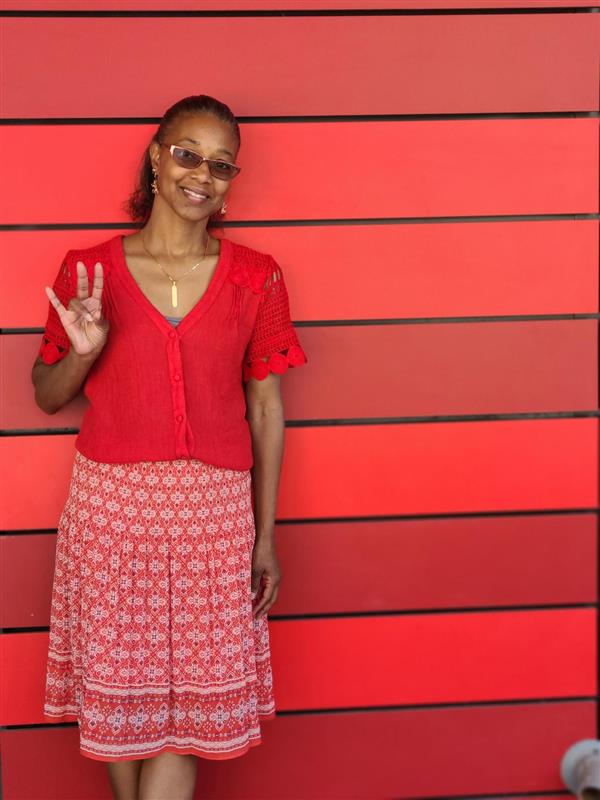 Crystle McDonald-Hutchinson
Assistant Director
crmcdona@central.uh.edu
Crystle McDonald-Hutchinson was born and raised in Detroit, Michigan, and graduated from St. Mary's of Redford high school. She attended Texas Southern University the first years of her college education, and then transferred to the University of Houston-Downtown campus where she received her Bachelor's degree in Social Sciences. Her educational inspiration carried her to earn a Master's of Business Administration at Our Lady of the Lake University, and earned an MBA with a certification in Health Care Management. Crystle held a state certification from the Board of Evaluators for Interpreters and used that platform to work with deaf and hard of hearing children in the school district. She received a certificate in Special Education and English as a Second Language. Crystle has worked in education for nineteen years in different capacities. She has worked as a case manager for Early Childhood Intervention for the Mental Health/Mental Retardation Authority of Harris County, a case manager for the Bread of Life Homeless Shelter, and has been the Director of Rainbow Academy for McGee Chapel Missionary Baptist Church.
Crystle has served as the Director of the Deaf ministry at McGee Chapel Missionary Baptist Church. She has also served as the membership chairperson for the Greater Houston Interpreters for the Deaf, and currently volunteers as an interpreter for church services.
Crystle has been working at the Justin Dart, Jr. Student Accessibility Center since September, 2013.
---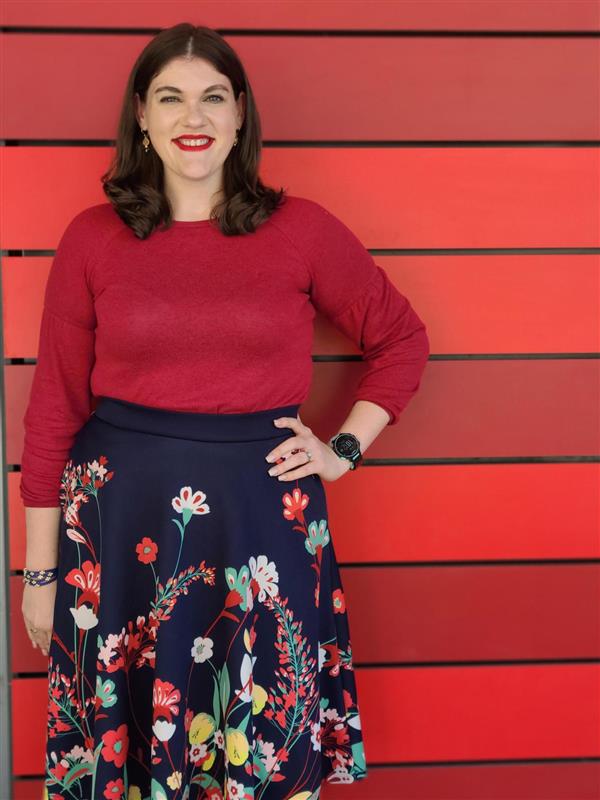 Christie Penzien
Assistant Director Communication Access
Cpenzien@central.uh.edu
Christie Penzien is a Sign Language Interpreter in the Student Accessibility Center. She has been interpreting professionally since 2013 and is certified by the Board for Evaluators of Interpreters (BEI).
Christie graduated with Summa Cum Laude honors from the University of Houston's American Sign Language Interpreting program in 2012. She also has a degree in Psychology with a minor in Business Management. After graduation Christie worked as a Houston community interpreter for 6 years before returning to campus to work with UH's Deaf and Hard of Hearing students.
Christie loves working with the college students, expanding her knowledge base, and partnering with UH Coogs to facilitate accessible communication.
---
Cheryl Lynn Lewis
Access Coordinator
cllewi20@central.uh.edu
Cheryl Lynn is from Lake Charles, Louisiana. She graduated from Southern University A&M Baton Rouge and earned a Bachelor's degree in Child Development. She continued her studies at Prairie View A&M University and earned a Master of Education Degree in Counseling
Cheryl Lynn has worked in the field of education in various capacities. She has worked on the campuses of Prairie View A&M University and Texas A&M International-Laredo as a General Manager for American Campus Communities. She has been an Advisor to student organizations and an Instructor for the "Freshmen Experience Course".
Cheryl Lynn is a state certified educator in Louisiana and Texas. She is a Level 1 Dyslexia Practitioner and has more than ten years of experience as a Pre-K-12 School Counselor and Section 504 Coordinator. She has provided mentoring, coaching and consultation services to graduate level Counselor Interns for the following universities: McNeese State University, American Public University and Liberty University.
Cheryl Lynn is new to the Justin Dart, Jr. Student Accessibility Center and is looking forward to assisting students with reaching their goals.
---
Tamarra Tinsey
Tamarra Tinsey was born and raised in Chicago, Illinois. She relocated to Texas in 2019. Tamarra earned her Bachelor of Arts degree with a minor in Education from Chicago State University. She continued her studies at National Louis University and earned a Master of Arts Degree in Psychology.
Tamarra's professional experience includes working as a Diverse Learner Educator for Chicago Public Schools and ABA Therapist. Later, she became a Case Manager for individuals that were in Foster Care. Tamarra believes that we all have a purpose to fulfill in life. Tamarra enjoys spending time with her family and working with the students at the Dart Center.
---
Taylar Johnson
Access Coordinator
tcjohns7@central.uh.edu
Taylar was born and raised in Beverly Hills, California. She has a passion for research covering workplace microaggressions, minority recruitment, industrial and organizational psychology, program enhancement, student success, COVID-19 related changes to collegiate academic success, and socio-behavioral psychology.
Since relocating to Texas, Taylar has obtained both her Bachelor's and Master's Degree from the University of Houston. She is a S.T.E.M Graduate, an HRD Strategist, a Published Author & Writer, a Socio-Behavioral Educational Researcher, and a Disaster Humanitarian Relief Volunteer Advocate. She is a proud life-member of the University of Houston Alumni Association (UHAA) and a member of B.I.T (Blacks in Technology).
In her previous role as Testing Coordinator, Taylar worked alongside various departments, students, faculty and staff to develop user-friendly resources that organize, coordinate, and maintain testing protocols and procedures.
Now as an Access Coordinator, she is happy to have the chance to continue offering accessible support to the UH family!
---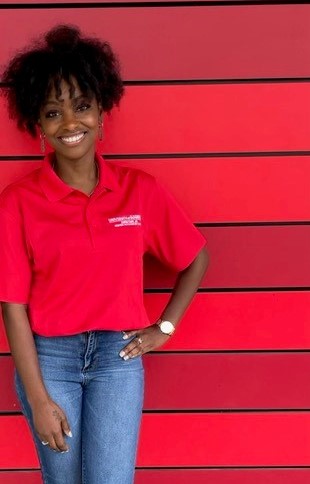 Tiara Tramble
Access Coordinator
tdtrambl@central.uh.edu
Tiara Tramble was born and raised in Hyannis Massachusetts. Her family relocated to Texas in 2000. Tiara earned her Bachelor's of Science degree majoring in Criminal Justice with Juvenile Justice specialization from Prairie View A&M University where she graduated Magna Cum Lade. She then continued her educational journey obtaining her Masters of Science degree in Human Sciences.
Tiara is currently in the process of completing her board certification as a Licensed Professional Counselor. She is currently certified in Adult Mental Health First Aid. Tiara has experience in psychosocial, mental health, and crisis counseling. She enjoys working with diverse populations, and In her leisure time she enjoys traveling and spending quality time with her family. Tiara is excited to work at the DART center.
---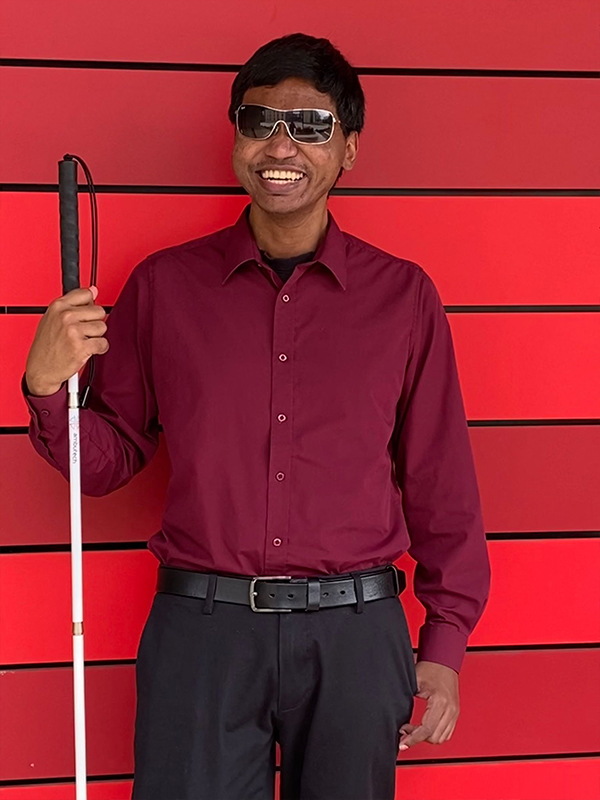 Suva Gomes
Assistive Technology Coordinator
sbgomes@central.uh.edu
Suva was born in Bangladesh and relocated to Texas in 2008. Since relocating, Suva has obtained his A.A. in Behavioral Science as well as his Bachelor of Science in Psychology at the University of Houston. Upon graduating from the University, he worked as an intern under the Technology Department for Criss Cole School for the Blind where he obtained his training certification in Assistive Technology. He currently serves as the Assistive Technology Coordinator, which involves implementing new assistive technology alternatives, for all students at the Dart Center.
Suva manages and maintains all Assistive Technology by aiding and developing the necessary softwares and hardwares available at the Dart Center. Softwares such as FUSION (a combination of zoom text and JAWS), JAWS (Job Access with Speech), Dragon (a tool for dictation), and Zoom Text (a computer screen magnifier). Hardwares, such as CCTV's (Close-circuit Televisions), OCR (Optical Character Recognition), Thermal Printers (for making tactile graphs), and Braille (using a slate and stylus to write and label different items). Alongside working with Assistive Technology, Suva takes on the role of IT advisor and aids in troubleshooting computer-related tasks.
Suva's goal is to bridge various departments together to make the University of Houston more accessible by educating students, faculty, and staff in the field of Assistive Technology.
In his spare time, Suva cooks, researches the new assistive technological tools developed, builds and repairs computers, and volunteers to virtually train various age groups on non-visual Smart devices.
---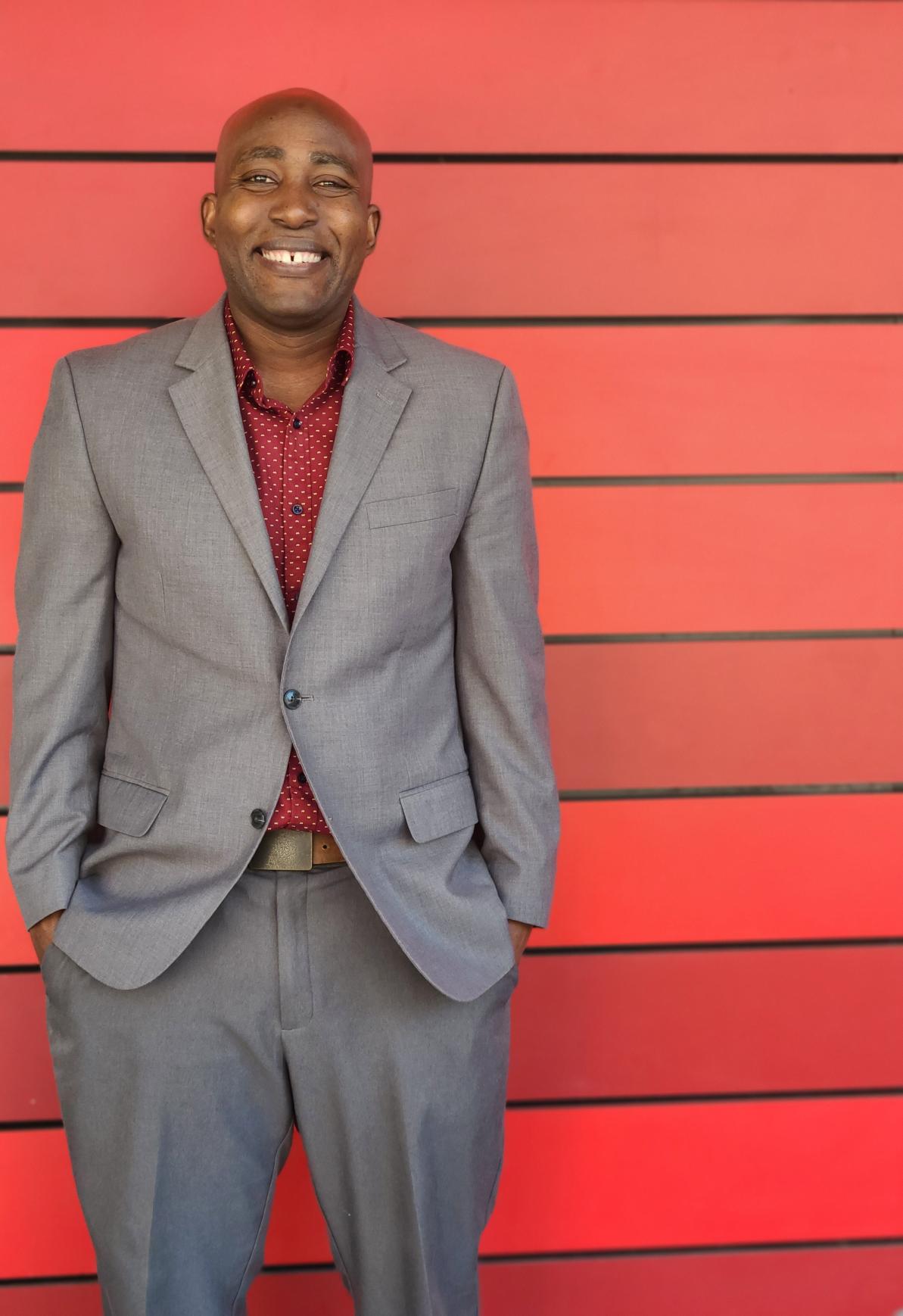 Michael Iwuchukwu
Sign Language Interpreter II
moiwuchu@central.uh.edu
Michael has worked closely with disabled communities in the Houston area for over 20 years. He has also been a Texas Certified interpreter for about 15 of those years. As someone who's lived in and had to adjust to several cultures, He's well aware of the need to bridge communication and cultural divides. He has a passion not only for the Deaf language, culture and the profession of interpreting, but also making sure everyone has the accommodations and access they deserve to thrive and succeed. His passion also extends to growing the interpreting field and mentoring the next generation of professional and ethical Sign Language Interpreters.
When He's not working for the University of Houston, Michael is happiest being the proudest Husband and Father He can be, while giving back to His Community.
---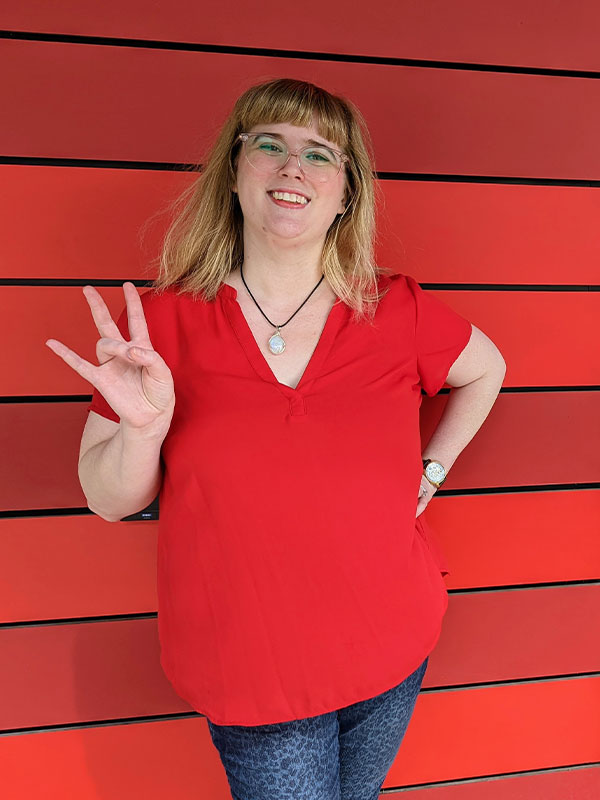 Sarah Cooper
Sign Language Interpreter
Sarah graduated Summa Cum Laude from Lamar University in 2013, earning a Bachelor of Arts in American Sign Language, before moving back to Houston to work as a video-relay interpreter, community interpreter, mama, and (briefly) midwife's assistant.
Though she's never been enrolled at the University of Houston, Sarah has been on campus for one reason or another since 2006: tagging along with her older brother, then attending Honors College events with her now-husband.
Interpreting in postsecondary settings is one of Sarah's passions: building relationships with students, learning about a variety of different subjects, and providing communication access truly bring her joy every day. Sarah is thrilled to be on this amazing team.
---
Benjamin Epstein
Captionist
bepstein@central.uh.edu
Benjamin Epstein is the captionist at U of H. He graduated from Bard College. He likes writing, stories, history, and being with his wife and daughters.
---
Ashley Balderas
Secretary 2
anbalde3@central.uh.edu
Ashley Molina was raised in Mission, TX. She received her Associates in Psychology at Northwest Vista College in San Antonio and is now pursuing her Bachelor's in Psychology & Human Development at University of Houston back to where she was born.
Ashley joined the Coogs family Fall 2020. She enjoys working with Justin Dart, Jr. Center!