During one of Houston's hottest summers on record, students from the University of Houston's Design Build Studio (GDBS) designed and constructed a "Solar Shade Tree" for McReynolds Middle School.
The long days spent under the sweltering sun creating this innovative structure have not gone unnoticed. Since its completion in August, McReynolds students and faculty are using the solar-powered, steel tree as a place for socializing and studying. In addition to the applause from the school's community, the "Solar Shade Tree" recently earned the Mayor's Proud Partner Award. Presented annually through Keep Houston Beautiful, the award honors projects that enhance and beautify the city.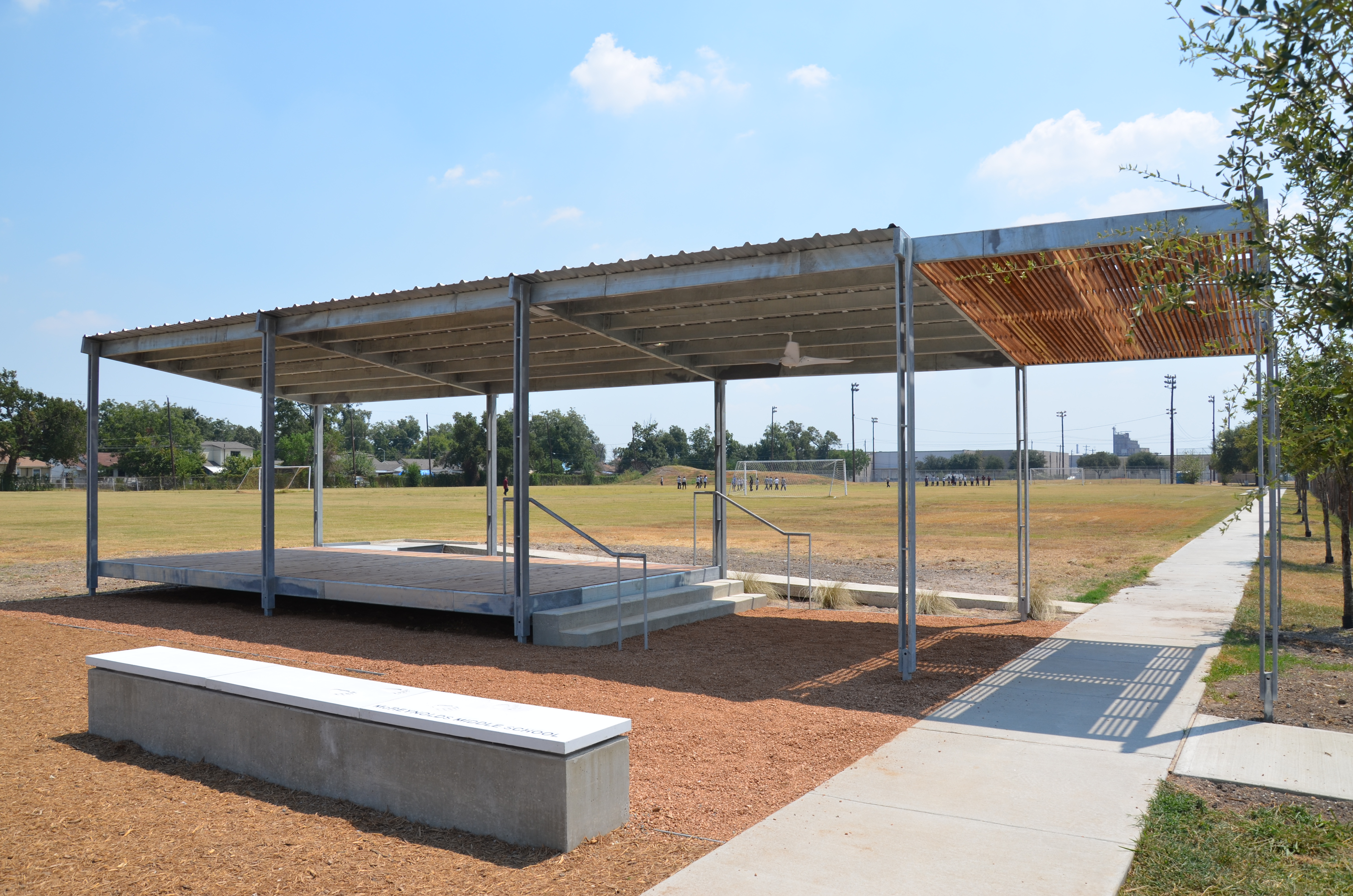 GDBS director and architecture professor Patrick Peters and GDBS students will receive this award during the 27th Annual Mayor's Proud Partners Award Luncheon at 11:00 a.m., Oct. 31 at the Houston Post Oak Hilton (2001 Post Oak Blvd.).
"Students receive accolades and criticism from teachers throughout the semester, but it's wonderful for them to be recognized by a panel of outside professionals," said Patrick Peters, director of the GDBS. "An award like this helps them understand the relevance of what they're learning at the Gerald D. Hines College of Architecture. It also allows them to see how their work impacts the community at large."
Comprised of UH graduate architecture students, the Graduate Design Build Studio focuses on contributing community-enhancing structures for schools, parks and nonprofit organizations. The "Solar Shade Tree" is the studio's 22nd annual project.
The "tree" offers the McReynolds campus with a shaded area with seating, ceiling fans and lighting. Powering the fans and lights are four solar panels (150 watts each). The steel structure is 13 feet wide, 44 feet long and 12 feet in height.
"I've visited the site recently and have been pleased to see McReynolds students and members of the local community using the 'solar shade tree,'" Peters said. "I've seen families gathered there to watch soccer games in the shade and to take cover from a short rain downpour. It's serving its purpose."
Founded 30 years ago, Keep Houston Beautiful is an organization committed to preserving and enhancing the city's landscape.  It connects with community members to educate and empower them to take responsibility for their environment. Each year, it recognizes members of the community who go above and beyond to beautify the city of Houston.
---