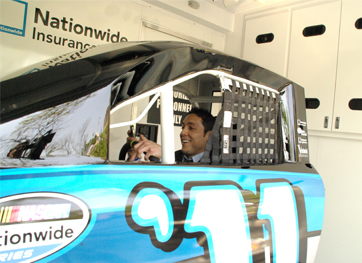 You don't have to look far to witness distracted drivers doing everything from eating to texting while on the road, putting their safety and that of others at risk. According to the National Highway Traffic Safety Administration (NHTSA) 20 percent of injury crashes nationwide in 2009 involved distracted driving.
Students at the University of Houston (UH) will experience firsthand how talking or texting behind the wheel can be a costly - and sometimes deadly - mistake. The UH Department of Public Safety (UHDPS) joins the Texas Department of Transportation (TxDOT) and Nationwide Insurance to bring a distracted driving simulator to the University of Houston Lynn Eusan Park from 9 a.m. to 4 p.m., Friday, April 1. The all-day event is free and open to the public.
Students will experience the effects of distracted driving, and the consequences, in a controlled environment using a NASCAR simulator that puts participants in the driver's seat.  Students will be provided with a cell phone during the session to see how they handle the car, along with the incoming texts.  The program is part of the 'Talk. Text. Crash.' TxDOT Distracted Driving campaign. It began March 29 to encourage Texans to put down their phones while driving. TxDOT and Nationwide are taking the simulator on a four-market tour, kicking it off at the State Capitol in Austin.
"Every day we witness drivers on the UH campus who are talking on their phones or texting," said Lt. Bret Collier, UHDPS.  "When you combine inexperienced and distracted drivers with other vehicles, pedestrians and cyclists on campus, it becomes a major public safety issue."
Data from the National Highway Traffic Safety Administration (NHTSA) show the proportion of fatalities associated with distracted driving is on the rise, linked with 10 percent of traffic deaths in 2005 and 16 percent in 2009. This deadly trend is mirrored in Texas, where 100,000 distracted driving accidents were reported in 2009, resulting in 408 fatalities.
| | |
| --- | --- |
| What: | NASCAR Distracted Driving Simulator |
| Who: | UHDPS, TxDOT, Nationwide Insurance invite the public to this free event |
| When: | 9 a.m. - 4 p.m., Friday, April 1 |
| Where: | University of Houston, Lynn Eusan Park (UH Entrance 1: take University Drive off Calhoun Road |
  Distracted Driving Facts:
In 2009, 3,308 crashes in Texas were attributed to cell phone use and 41 of those crashes were fatal.
The under-20 age group had the highest proportion of distracted drivers involved in fatal crashes (16%). The age group with the next greatest proportion of distracted drivers was the 20-29 year-old age group (12%). (2008)
In Texas, 42% of urban teens and 48% of rural teens text while driving (2009)
In Texas, 46% of urban teens and 52% of rural teens talk on a cell phone while driving (2009)
5,870 people died in 2008 crashes involving a distracted or inattentive driver, and 515,000 were injured. (2008).
An estimated 21% of 1,630,000 injury crashes and 16% of all fatal crashes were reported to have involved distracted driving (2008).
48% of all teens ages 12 to 17 say they've been a passenger while a driver has texted behind the wheel (2010)
Motorists who text message while driving are six times more likely to crash than those who don't text while driving (2009)
45% of respondents reported having been hit or nearly hit by another driver using a cell phone (2008)
90% of respondents said people driving after drinking alcohol was a very serious threat to their safety; 87% said the same about text messaging or e-mailing while driving, yet 18% of those same people admitted texting in the past month (2009)
About the University of Houston
                The University of Houston is a comprehensive national research institution serving the globally competitive Houston and Gulf Coast Region by providing world-class faculty, experiential learning and strategic industry partnerships.  UH serves more than 38,500 students in the nation's fourth-largest city, located in the most ethnically and culturally diverse region of the country. 
For more information about UH visit the university's Newsroom at www.uh.edu/admin/media/newsroom               
###
---