The University of Houston will host a tribute March 14 for professor emeritus Neal Amundson, who was considered by many to be the "father of modern chemical engineering" and a leading educator in his field.
Amundson, Cullen Professor Emeritus of Chemical and Biomolecular Engineering and Professor of Mathematics at UH, died Feb. 16 at age 95.
Colleagues and friends from across the United States and Mexico will gather at the Cullen College of Engineering to remember Amundson, who helped reshape the chemical engineering field both as a researcher and an educator.
The tribute, which is open to the public, will feature talks from more than 15 highly regarded engineers and scientists who worked with and/or studied under Amundson during his five decades as a teacher and researcher. UH President Renu Khator also is scheduled to speak at the service.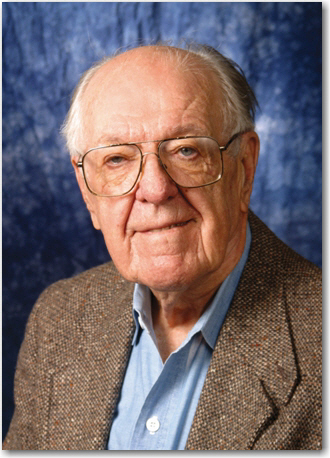 Amundson, a pioneer of chemical reaction engineering, was a member of the American Academy of Arts and Sciences, the National Academy of Engineering and the National Academy of Sciences,
Before joining UH in 1976, he led the top-ranked University of Minnesota department of chemical engineering for 25 years. At UH, he helped launch the chemical engineering program into the Top 10 nationally during the early 1980s.
"Neal was single-handedly responsible for building one of the best chemical engineering departments in the country at the University of Minnesota," said Dan Luss, a Cullen Professor of Chemical Engineering at UH who earned his doctorate under Amundson at Minnesota. "He came to UH and was instrumental in putting our chemical engineering program on the map."
Note: The memorial service will be held from 9 a.m. to 12:30 p.m., March 14, in the L2-D2 Engineering Lecture Hall at UH's Cullen College of Engineering. For more information visit: http://egr.uh.edu/news/0311/files/AmudsonPoster.pdf
---