Nominated three times for the Nobel Prize, Adonis (pronounced AH-doh-nees) is called "today's most daring and provocative Arab poet" by literary and cultural critic Edward Said.
"A pioneer of the prose poem, he has played a role in Arab modernism comparable to T.S. Eliot's in English-language poetry," writes Adam Shatz in The New York Times. Adonis's 1971 poem, "The Funeral of New York," has been called "The Waste Land" of our time.
"Experimental in style and prophetic in tone, Adonis's poetry combines the formal innovations of modernism with the mystical imagery of classical Arabic poetry. He has evoked the anguish of exile, the spiritual desolation of the Arab world, the intoxicating experiences of madness and erotic bliss, the existential dance of self and the other. But what defines his work, above all, is the force of creative destruction, which burns through everything he writes," said Shatz.
Adonis has written more than 20 books in his native Arabic, including the pioneering work, An Introduction to Arab Poetics. Adonis received the Bjørnson Prize in 2007, the first International Nâzim Hikmet Poetry Award, the Syria-Lebanon Best Poet Award, and the highest award of the International Poem Biennial in Brussels. He lives in Paris.
Adonis's appearance on the UH campus is sponsored by the Arab American Educational Foundation, the UH Honors College, the department of history and Office of the Vice President for International Studies.
WHAT: 

University of Houston English department hosts Adonis (Ali Ahmad Said), an internationally acclaimed poet, literary critic, translator and editor.

WHEN:   

4 - 5:30 p.m., Monday, Oct. 18 Free and open to the public. For questions or further information, call professor Aboul-Ela at 713-743-3012 or haboul-ela@uh.edu 

WHERE: 

The Honors College Commons, M.D. Anderson Library, 2nd Floor (http://www.uh.edu/campus_map/buildings/L.php)

Public parking is available in the UH Welcome Center Garage

Entrance 1 off Calhoun Road (http://www.uh.edu/campus_map/buildings/WC.php)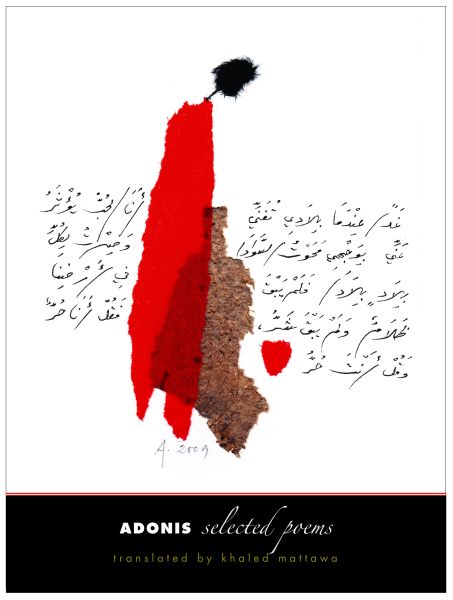 # # #
---