The stylized handwriting of Gen. George Washington urges readiness for one regiment.  In another letter, he describes how to bargain with flour and Indian corn.  Still another from Col. William D'Hart to Col. Israel Shreve details a victory in Newtown in 1779.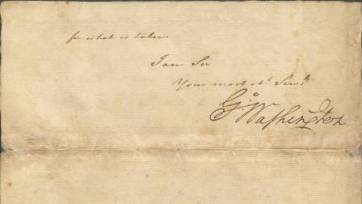 The letters are part of the University of Houston Libraries Special Collections and are accessible to researchers or others interested in thoughts and actions of participants of the American Revolution. 
"These letters are small gems in our large archive of special collections," said Dick Dickerson, university archivist.  "They were donated very early on in our history of collecting primary materials, and while we have more extensive collections of other eras and subject areas, these remain very special."
The majority of the collection is made up of letters from Col. Israel Shreve of the 2nd New Jersey Regiment in the Continental Army during the American Revolutionary War.  The 76-item collection of his Revolutionary War letters span the years 1776 - 1793 with the bulk of the correspondence  talking place from 1777- 1780.  The letters are to and from George Washington, Alexander Hamilton, and others in Washington's Continental Army.  There are several to Shreve's wife, brother and mother.  Included also are maps of cities and forts.
"From a historian's perspective, these letters are so valuable because they are original, primary resources that testify to actual events and recorded at the time they happened," Dickerson said.  "They aren't interpreted or tinted by a biographer or historian."
The Special Collections are used by students and other researchers from around the country.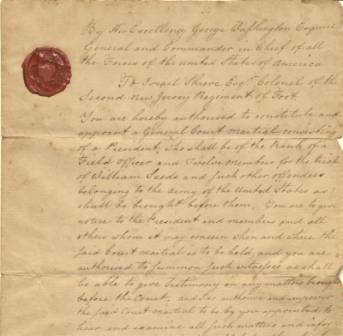 One letter poses a math question to Shreve regarding the building of a house; another is a handwritten list of the general staff of the army.  One touching letter reveals how human tragedy can weigh heavily on military leaders.  Shreve wrote a poem during a time of great illness among the ranks.  He described the men, women and children without homes or possessions; many sick with small pox.
"As the July 4th holiday approaches, it's only fitting to take another look at these letters.  One is struck with the feeling of how precious they are," Dickerson said.                 
This collection is available by contacting the UH Special Collection office at 713-743-9750 or through the UH Digital Library at http://digital.lib.uh.edu/.
For more information on the UH Special Collections, visit http://info.lib.uh.edu/libraries/sca/index.html  or email Dick Dickerson at dickd@uh.edu.
For more information on the UH Digital Library, visit http://digital.lib.uh.edu  
---