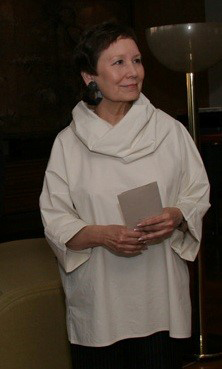 The Toni Beauchamp Prize in Critical Art Writing is the brainchild of Toni's colleagues who worked with her in her tireless efforts over the years to encourage critical thinking, discourse, and dialog in the arts. Recognizing that there are few awards worldwide to support such efforts, they suggested the prize be created and named in honor of Toni and housed at the University of Houston.
This endowment, established by Jeffery Beauchamp's founding gift of $250,000 will provide support for critical art writing recognition and annual awards, as well as support for Gulf Coast: A Journal of Literature and Fine Arts in administering the Prize. Gulf Coast is housed in the College of Liberal Arts and Social Sciences, in the Department of English at UH.
Dr. J Kastely, Department of English Chair, noted, "The Toni Beauchamp Prize brings recognition to the field of Criticism and those who practice it while at the same time highlighting Gulf Coast's nationally acclaimed role in fostering critical thinking and expression in all forms of art and literature."
Critical essays written in the preceding year, whether published or not, are eligible for submission by the author or nomination by others. Entries will be blind-judged by a committee comprising Gulf Coast editors and UH faculty. A distinguished scholar will be selected each year to make the final selections.
The winner of the Toni Beauchamp Prize will be awarded $3,000, and the winning submission will be published online and in the annual Winter/Spring print issue of Gulf Coast. Two honorable mentions will receive $1,000 each. All three recipients will receive recognition for their work through local and national programing intended to bring greater awareness of the importance of critical art writing.
Toni earned her Bachelor of Arts degree from the University of Houston ('73) with a double major in Art and Business Administration, and her Master of Fine Arts from the University of Texas, Austin ('83). Over the years, she wrote extensively about artists and the arts community, including a still-seminal biographical narrative on the James Johnson Sweeney years as director of the Museum of Fine Arts, Houston. Toni was an integral part of the formative years of the University of Houston's Blaffer Gallery, now Blaffer Art Museum, where she served as the assistant director for nearly a decade. Toni served as President of Art Lies Magazine from 2002 to 2004. Art Lies merged with Gulf Coast in 2013, joining creative writing, arts criticism, and art together in a single publication.
Toni was a passionate arts leader and advocate. Organizations in which she served include Diverse Works; Contemporary Arts Museum, Houston; Glassell School of Art; Buffalo Bayou Partnership; and numerous civic and cultural organizations in Houston and Marfa, Texas.
Toni and Jeff were married in 1963 and celebrated 48 joyous anniversaries together. The success of a data management firm founded by Jeff, which they subsequently developed together over the decades, facilitated their passion for collecting art and supporting artists, the arts, and various civic and cultural endeavors. Toni succumbed to cancer in 2012 but her focus on bringing recognition to the field of critical art writing and encouragement to those who practice it will live on in the form of the Toni Beauchamp Prize.
To support the Toni Beauchamp Prize in Critical Art Writing Endowment, please contact Kim Howard, klhoward@central.uh.edu