Mahin Ansari - B.A. in American Sign Language Interpreting
Spring 2015 graduate on track to become one of the few Muslim certified ASL interpreters in U.S.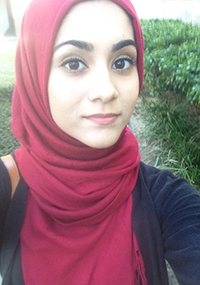 When weighing her options to fulfill her high school's foreign language requirement, curiosity got the best of Mahin Ansari and she enrolled in an American Sign Language course.
"By the second day of class, I had fallen in love," she says. "The language fascinated me. I found it amazing that we could just use our hands and face to convey anything and everything we want."
When a sign language interpreter visited her high school's ASL class and spoke to the students about the interpreting profession and how rewarding it can be, Ansari immediately knew she had found her future career.
Excited, she went home and told her parents about her new career choice – to become a sign language interpreter.
"My parents immediately shut me down," she says. "My mom kept quiet and my dad was upset. He expected me to be interested in becoming a dentist or an accountant."
Ansari believes that like many people, her parents didn't know much about interpreting or sign language. It took her a long time to convince her family that this was a viable career choice, but she eventually earned their support.
On May 15, Ansari graduated with a degree in American Sign Language Interpreting and a second degree in History. Once she obtains her certification in ASL, she will be one of the few Muslim ASL interpreters in the nation.
"I feel special knowing that I am one of few Muslim interpreters – and it gives me more of a reason to continue my education so that I can make a change in the deaf Muslim community," she says.
Ansari says that the Muslim community is encompassed of people from different cultures and backgrounds. English, Arabic and Urdu are often used during gatherings, and there are many deaf Muslims who do not receive proper interpreting services. Muslim interpreters are especially needed to facilitate communication at Friday prayers, conferences and meetings.
"We need Muslim interpreters because they are the ones who are familiar with our language, religion and culture. I am hoping to be one of those Muslim interpreters after I receive my certification. I feel like it is time for me to give back to my community," says Ansari.
Ansari was born and raised in Houston and graduated from Stephen F. Austin High School in 2011. She enrolled at UH in fall 2011 because it is the only university in the state of Texas that offers a bachelor's degree in American Sign Language Interpreting.
"Once I was accepted into UH, I focused my first two years on completing my basics and ASL prerequisites," she says. "I then applied to the ASLI Program and got accepted. This was also around the time that I decided to double major in History. I had some extra time on my hands and wanted to challenge myself by doing something on the side."
Ansari is a member of the National Society of Collegiate Scholars, Phi Alpha Theta, and the American Sign Language Honor Society. She is also the secretary of the American Sign Language & Interpreting Club at UH and a volunteer with the non-profit organization, Global Deaf Muslim. In addition, she works as the undergraduate teaching assistant for the UH ASLI program coordinator.
"As a student, Mahin has earned the highest marks from ASLI faculty on coursework and service learning projects," says Sharon Hill, ASL Interpreting Program Coordinator & Instructional Assistant Professor. "The local interpreting and Deaf community has expressed appreciation for Mahin's involvement and dedication to the profession, and more than once the program has received positive feedback about her volunteer efforts and professionalism while representing the University."
Now that she has earned her degree, Ansari's next step is to pass the state certification exam so that she can begin working as a professional interpreter. She also plans to obtain her Master's degree in either Interpreting or History. Long-term, Ansari's goal is to specialize in legal interpreting and work in the courtroom setting.
"The best advice Professor Hill has ever given to me is that, 'interpreting is a window into many worlds," Ansari says. "I remember her saying this to me two years ago, but I did not understand the extent of it until a few months ago. Now that I am graduating, I finally understand how vast the world of interpreting is. This is just the beginning of an enriching educational journey."
- By Monica Byars