Blaffer Art Museum presents Anton Ginzburg's U.S. museum debut
Exhibition by Russian multi-media artist first shown at Venice Biennial closes March 15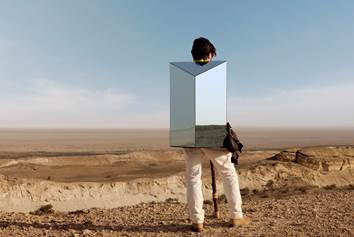 Until March 15, Blaffer Art Museum has on view the U.S. premiere of Terra Corpus, a major exhibition of the work of Russian multi-media artist Anton Ginzburg.
Terra Corpus combines At the Back of the North Wind and Walking the Sea, the first two parts in a trilogy of works in film, photography, sculpture and painting. The exhibition focuses on mythical and legendary landscapes that loom large in our imaginations.
At the Back of the North Wind was first presented in Italy at the 54th Venice Biennial in 2011. Blaffer co-presented the exhibition with Flo Art Fund and Artpace San Antonio.
The first work in the trilogy, At the Back of the North Wind is the product of a journey extending from America's northwest region to St. Petersburg, Russia, to the White Sea (on the northwest coast of Russia). The artist's expedition was an attempt to locate Hyperborea – the fabled Utopian realm.
Walking the Sea extends the artist's journey as he documents his trip across the Aral Sea – an inland salt-water sea between Kazakhstan and Uzbekistan. The eroding body of water serves as a canvas for Ginzburg's imagination as he documented a dried up, desolate landscape filled with abandoned vessels and former Soviet military bases.
The original production of Walking the Sea was made possible in part by Flo Art Fund and Andrey Goncharenko Cultural Foundation.
Anton Ginzburg was born in 1974 in St. Petersburg, which was at the time Leningrad in Soviet-era Russia. He received a classical art education in preparation for the Soviet academy, and immigrated to the United States in 1990, earning a BFA from the Parsons School of Design in 1997. Ginzburg is currently working on his MFA degree at Bard College. He lives and works in New York. 
Anton Ginzburg: Terra Corpus is made possible, in part, by the Cecil Amelia Blaffer von Furstenberg Endowment for Exhibitions and Programs, the Houston Endowment Inc., Krista and Mike Dumas, Judy and Scott Nyquist, and Ted Lee and Marc Sekula.   Additional major exhibition support is provided by Leslie and Brad Bucher, the City of Houston through the Houston Arts Alliance, the Jo and Jim Furr Exhibition Endowment at Blaffer Art Museum, The George and Mary Josephine Hamman Foundation, William J. Hill and Jane Dale Owen.
Saint Arnold Brewing Company provides in-kind support.
Educational outreach programs are made possible by Dorothy C. Sumner, the Kristin Saleri Art Foundation and Quantum Reservoir Impact.
Related Links: