Political Science Ph.D. candidate awarded 2-year big data fellowship by Harvard
Matthew Lang's proposal to remain in Houston and continue working for Houston ISD as an agency fellow accepted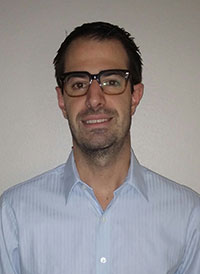 When doctoral candidate Matthew Lang learned about a fellowship opportunity that placed participants in various cities around the country, he figured out a way to reap most of the benefits of the opportunity without having to relocate.
The Strategic Data Project at Harvard University offers fellowships that pair data strategists, like Lang, with school districts, charter school networks, state education agencies, and nonprofit organizations around the country. The project's mission is to transform the use of data in education to improve student achievement and have an immediate impact on policy decisions that affect student outcomes.
Lang, who is working towards his doctorate in political science, was already working in data analysis at the Houston Independent School District (HISD), the nation's seventh-largest public school system.
"Currently, I am the Senior Manager of Information Analysis and Utilization with HISD," said Lang. "We are operational data specialists who supply the day-to-day data needs for HISD's 282 campuses."
Lang and his coworkers analyze and provide data regarding attendance, discipline, budgets, student performance, state assessments, and basically any other statistical needs for the internal use of the school district.
Lang sent the Harvard Strategic Data Project a proposal touting the benefits of him remaining in his Houston-based position with HISD while participating in the Harvard project. The project works with many school districts and organizations across the country, but HISD was not one of them.
To strengthen his proposal, Lang also encouraged HISD administrators to apply to become a partner organization. If HISD was chosen as a partner, that would increase Lang's chances to be awarded the fellowship while remaining with HISD and staying in Houston.
Lang's proposal was accepted and he was awarded a two-year fellowship to continue gleaning insights from his day job that can benefit others.
"My focus issue will be examining literacy within HISD, and measuring across various testing sources how to best determine students' reading levels," said Lang. "The data I gather and analyze should allow administrators to make well rounded, data-driven decisions that can then be implemented in the classroom. All of this is done to ensure HISD students are on track to graduate."
Beginning in September, Lang will spend 65 percent of his time doing the same work he has been doing for HISD, 15 percent of his time on the focus issue and related projects, 15 percent of his time in professional development, and 5 percent of his time working on capstone reports.
Lang's work at HISD is very different from the work he is doing as a doctoral student at UH. He has completed his classwork, and is currently working on his dissertation.
"One of the things I love about the liberal arts is that I could combine critical thinking with statistics. I think that it is an invaluable skillset," said Lang.
He earned his Bachelor's and Master's degrees in political science from Indiana University-Purdue University Indianapolis. While researching schools to attend to earn his doctorate degree, he wound up speaking with Brandon Rottinghaus, associate professor of political science. The two hit it off immediately, and that fact – along with an offer of full funding – brought Lang to UH in August 2010.
"Matthew's impressive work ethic was apparent from his first day in the program," said Dr. Rottinghaus. "His intelligence and his interest in executive politics and applied methodology led to he and I co-authoring multiple published papers."
"You want to come to a PhD program and work with someone you like," Lang said. "Also, my wife is a nurse, so moving to Houston was appealing to her because of the career opportunities for her here as well."
Lang started working for HISD in 2013 as a research specialist, and quickly was promoted to Manager in the Accountability Office, and then into the position he currently holds. He and his wife have two kids, aged two and one, and are expecting a third child.
"My focus has always been on data," said Lang, who hopes to graduate in May 2015. "That is a big job need, and a lot of organizations want to make data-driven decisions. Also, the job market for tenure track faculty can be difficult, and the positions that are available may be in a market you are not interested in living in. I'm showing people that you can go a different route and be successful."
- By Monica Byars