Welcome Wilson Houston History Collaborative Established
Center for Public History renames Houston History Project for alumnus donor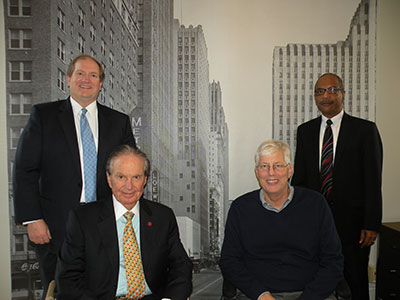 Standing from left, Mr. Chris Cookson, a former student of Martin Melosi, who approached Welcome Wilson on behalf of the Center for Public History, and Dean John W. Roberts. Seated from left, distinguished alumnus Mr. Welcome Wilson Sr. and Dr. Joe Pratt, director of the Welcome Wilson Houston History Collaborative, editor-in-chief of the Houston History magazine, and Cullen Professor of Business and History.
Welcome Wilson, Sr. has established the Welcome W. Wilson Endowment to allow the Center for Public History to grow its efforts to research, write, and preserve local history.
"Tracking the history of Houston has been a passion of mine since I came here for college 68 years ago," said Mr. Wilson, a 1949 graduate. "I am very honored that this important endeavor will bear my name."
The Welcome Wilson Houston History Collaborative will replace a previous Center for Public History initiative, called the Houston History Project, under the direction of Dr. Joseph Pratt, NEH-Cullen Professor of History and Business.
"We can think of no better name to have associated with our program than Welcome Wilson," said Martin Melosi, director of the Center for Public History. He called Mr. Wilson's gift "the most important financial gift that the center has yet received by an individual synonymous with the history and heritage of the University of Houston and our community at large."
The Welcome Wilson Houston History Collaborative will continue the publication of Houston History magazine, management of the UH Oral History of Houston project and the UH History Archives, and production of UH Memories documentary films.
"We will be able to expand the digital content that we provide on the website, which enhances both the print magazine and the summer digital issue," said Debbie Harwell, Managing Editor of Houston History. "The gift will also support the work of undergraduate students in researching and writing history for the magazine and website through the Regional History class."
Additionally, the Welcome Wilson Houston History Collaborative plans to create an in-depth, documentary film on the history of UH and the city of Houston in a broader, more comprehensive context than ever previously attempted.
Mr. Wilson served as Chairman of the Board of Regents of the University of Houston System from 2007 - 2010. He is the Chairman of the Board of GSL Welcome Group, LLC, a principal in Kingham Dalton Wilson, Ltd., and a longtime real estate developer in Southeast Texas.
Among his numerous awards, Mr. Wilson was recently inducted into the Texas Business Hall of Fame, and received the Houston Business Journal's Lifetime Achievement Award.
Along with his impressive business credentials, he served in several capacities in the Dwight D. Eisenhower, John F. Kennedy, and Lyndon B. Johnson administrations.  He was a naval officer in Japan during the Korean War. He has been married for 64 years, to his wife Joanne, and has five children, 16 grandchildren, and 10 great-grandchildren.
- By Monica Byars