Army ROTC scholar graduates in four years prepared for military career
History major Randolph Webb looks forward to a future that honors and extends his family legacy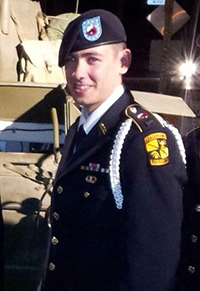 Randolph Webb respects the past.
The graduating senior has earned a bachelor's degree in history, while building on his family's military heritage as a member of the Army Reserve Officer Training Corps at the University of Houston.
"I come from a legacy of soldiers, sailors, and marines," said Webb. "My father served in the U.S. Marine Corp for six years during the Vietnam War. My cousin has served in both the active Army and Arkansas National Guard over the last 20 years. So essentially, we have had someone serve in the U.S Military since the Civil War - it's a tradition for our family."
Webb describes serving in the military as his 'calling.' After graduating from Clear Lake High School in Houston in 2010, he decided to prepare for a military career while attending college.
"When it came to my future, I thought taking the officer path through ROTC was the right choice for me because I would acquire a college education and also have the opportunity to lead America's finest men and women," he said.
The Army ROTC program provides leadership training and management experience, as well as a Military Science minor. Students who receive ROTC scholarships must be U.S. citizens who meet several academic and physical standards and agree to accept a commission and serve in the U.S. Army on active duty or in the reserve component after graduation.
Webb is a ROTC scholar who in four years completed his coursework and physical training and competed as a member of the Houston BN Ranger Challenge team. The Ranger Challenge is a three-day, intercollegiate competition tests that tests Army cadets' physical and mental strength with tasks that range from timed land navigation to a 10K road march.
Webb also served in the Color Guard and conducted with his fellow cadets the U.S. flag ceremony at the start of football games, the Houston Livestock Show & Rodeo, and other Houston-area events, often in front of thousands of spectators.
Webb's family will celebrate in December his graduation and his Army commissioning ceremony. His father will be in attendance, witnessing the next generation of the Webb family step up to serve his country.
Webb has already received his post-college orders – working as a commissioned active duty officer at the Field Artillery School in Ft. Sill, Oklahoma.
"Eventually, I would like to join and serve in the 75th Ranger Regiment and U.S Army Special Forces," said Webb.
His respect for the past doesn't in any way lessen his ambitions for the future.
- By Monica Byars