Work-study student graduates with BFA in Painting and job skills
Leah Esparza worked in CLASS Dean's Office for four years while studying in the School of Art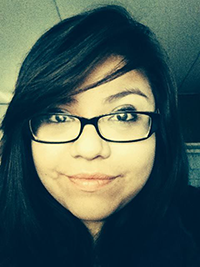 Stop by or call the CLASS Dean's office and you very likely will speak with Leah Esparza.
The graduating senior has served as a front-desk receptionist answering phones, greeting guests, and handling clerical duties since her freshman year in 2010.
Student workers in the CLASS Dean's office are hired through the Federal College Work-Study Program and the State of Texas College Work-Study Program, two government funded initiatives that subsidize part-time employment for students eligible for financial aid.
Esparza used her work-study job to gain valuable administrative skills and earn income to cover college expenses while pursuing her true passion – visual art.
"The many questions and concerns I have as an artist is what keeps me going because there is no right or wrong answer, it's about keeping art alive in every way possible," Esparza says.
Her love for drawing and painting bloomed when she was a young child.
"I would love to color the walls of our kitchen and my parent's bedroom," she says. "It really became a problem when I would find the Sharpies (permanent ink markers), and eventually my mother gave up on washing the walls."
As a student at Alvin High School near Houston, Esparza took Advanced Placement studio art classes, which introduced her to the academic side of visual art creation and refined her technique. She won several medals in the Texas Visual Arts Scholastic Event in 2008 and 2009.
Esparza enrolled at UH to study in the School of Art.
"The art program at UH requires you to take art classes other than your preferred field and that has helped me figure out my likes and dislikes in art," she says. "I don't t feel tied down to painting at all because I've been fortunate to venture to other areas of art like photography."
Today, Esparza's family can admire her artwork on the walls of the Goose Gallery in Alvin, rather than the walls of the kitchen.
"Leah is one of the most talented and thoughtful students I have had the pleasure of working with," said Kelli Vance, an instructor in the School of Art. "Her work ethic and dedication to the arts is fearless and inspiring. I have seen Leah's work develop technically and conceptually while in the program and have no doubt that she will continue to become an exceptional artist."
As a fulltime student and part-time receptionist, Esparza made time for extracurricular activities that compliment her artistic ambitions. She became a member of the Blaffer Art Museum Student Association and was elected as an officer of the organization. And, she joined the Center for Arts Leadership as a student board member.
"Joining these organizations enhanced my education by allowing me to explore various artistic careers other than being an artist, like a career as an Art Director or Curator," Esparza says.
On December 19, Esparza will be awarded a Bachelor of Fine Arts in Studio Arts-Painting with a minor in Art History.
Her post-college plans include traveling, landing a full-time job and preparing to return to school to earn a master's degree.
"I'm not sure what subject I want to earn my Master's degree in, but I look forward to the journey of finding out more about myself and figuring out what other interests I may have," Esparza says. "I grew into art, and will continue to grow with it."
- By Monica Byars
Photo Gallery