Tough love lesson teaches student the value of higher education
Tony Calderon credits Center for Mexican American Studies Director Tatcho Mindiola as catalyst to change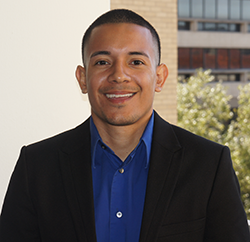 "Maybe college isn't for you."
Those words seemed to hang in the air after being uttered by Dr. Tatcho Mindiola, director of the Center for Mexican American Studies, in a heart-to-heart talk with student Tony Calderon.
A sophomore at the time, Calderon was doing so poorly in school he was on academic probation and had lost his academic scholarship. His troubles extended beyond the classroom. His employer had terminated him and one of his close friends had died in a recent car accident.
"In that meeting, Tony's demeanor and attitude struck me that he did not really care about being in college," recalled Dr. Mindiola. "I also told him that with his 'I don't care' attitude, I didn't think he would go very far. I was angry over his lackadaisical attitude and raising my voice, and I continued to tell him that perhaps he was not wise enough to realize the opportunity that was in front of him."
Dr. Mindiola's "tough love" approach and harsh declarations had the effect the seasoned educator wanted. Calderon says the sting of Dr. Mindiola's words was the catalyst he needed to adjust his attitude and get serious about his education.
"During that meeting, Dr. Mindiola was kind enough to tell me the things that needed to be said," Calderon says. "I am forever grateful for that."
Born in Houston and raised less than three miles from the UH campus, Calderon says "college was simply an abstract concept" until that wake-up call of a conversation with Dr. Mindiola.
As a student at Stephen F. Austin High School, Calderon joined the Academic Achievers program, which is run by Dr. Mindiola's staff at the Center for Mexican American Studies.
The program recruits underrepresented students to attend college. High school and college students accepted into Academic Achievers are eligible to receive a $12,000 four-year scholarship, priority registration at the University of Houston, and career and leadership opportunities in the City of Houston.
Academic Achievers peer mentors encouraged Calderon to attend UH because of the close proximity to his home and the availability of financial assistance. He followed their advice, but says he was lukewarm on the idea of spending four more years in school.
He struggled in his first and second years until Dr. Mindiola intervened. Two years after "the talk," Calderon graduated in May 2012 with a bachelor's degree in corporate communications.
After he proved to himself, Dr. Mindiola and the CMAS staff that he took himself and his education seriously, Calderon started to imagine even more for his life.
"The possibility of more formal education became an intriguing idea," he says. "And, thanks to CMAS and their graduate fellowship, the financial and educational requirements became increasingly feasible."
He enrolled in the Jack J. Valenti School of Communication's graduate program in health communications. His goal is to be a community advocate and public health educator on diseases and healthcare issues that disproportionately affect Hispanic people.
"Everyone, no matter what nationality, race, gender, or age they happen to be, deserves access to quality health care they can afford," Calderon says. "By working closely with this population I hope to make a small impact on the way educational information is designed and disseminated in the effort to improve lives."
On December 19, Calderon graduates from UH again, this time with a master's degree in health communications.
Dr. Mindiola is delighted with Calderon's progress and excited about his future.
"I see him now and I am very pleased to see a confident young man who is going to make a contribution to the community," says Mindiola, an associate professor of sociology.
"I like to think that first meeting had something to do with it, but in the final analysis, it was Tony who earned the situation where he is now. We only provided him with the means."
- By Monica Byars