LULAC Co-Founder Alonso S. Perales Celebrated in Special Collections Exhibit
Mexican-American Civil Rights Pioneer' archive acquired by Arte Publico Press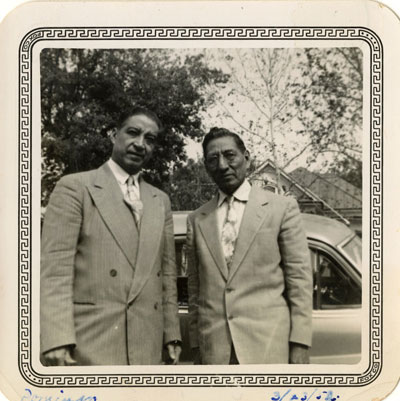 LULAC leaders Alonso S. Perales (left) and Jose Luz Saenz from the
Special Collections, University of Houston Libraries
He was a trailblazer for Mexican-American civil rights at the turn of the century and a self-proclaimed defender of his race. Now the archive of Texan Alonso S. Perales will be on view in the Special Collections of the University of Houston M.D. Anderson Library.
The exhibit, "In Defense of My People: Alonso S. Perales and the Development of the Mexican-American Public Intellectual," will be on view Dec. 21 – March 1, Monday through Friday during regular library hours.
A law school graduate in 1926, Perales was among the most influential organizational figures and public intellectuals in the early 20th century. A diplomat and pioneer in Mexican-American civil rights, Perales saw himself as a defender of the race, as documented in his two-volume seminal work, "En defensa de mi raza" (In Defense of My Race).
A prolific writer, he wrote about civil rights, religion, politics and racial discrimination. Perales was one of the founders of the League of United Latin American Citizens (LULAC) in 1929 in San Antonio, Texas.
Perales' family donated his archive to Arte Público Press and its "Recovering the U.S. Hispanic Literary Heritage Project." The collection includes documents from Perales' life and work, correspondence, LULAC papers and publications, along with rare manuscripts and photographs.
The recent acquisition of the archive has allowed scholars from around the world to research this trailblazing public intellectual. Their initial work was discussed in a daylong symposium Friday, Jan.13, at the library's Elizabeth D. Rockwell Pavilion.
- Marisa Ramirez
Related Links: