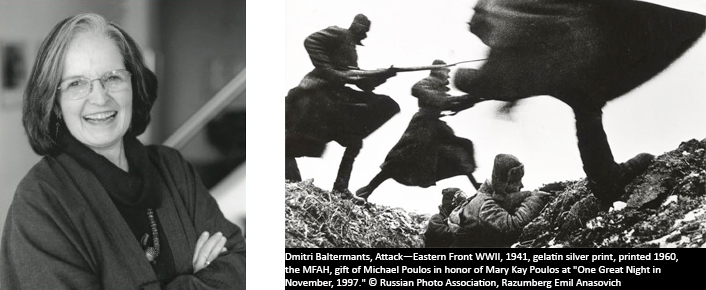 Landmark exhibition on the abnormal life experience of war
Women's Studies brings renowned photography curator Anne Tucker to campus
During times of war, when soldiers pick up weapons and prepare for combat, a few individuals pick up a camera instead.
Since the mid-1800s, photographers followed the military into battles to witness and document the impact of armed conflict on the individuals living and fighting in war zones.
A new exhibit of those visual records debuted last month at the Museum of Fine Arts Houston. The exhibit's curator Anne Tucker recently came to campus to discuss her journey from art-loving college student to steward of the landmark exhibition of photography that spans 165 years of war, from 1846 to the present.
Tucker has become an influential art historian since leaving her childhood home in Louisiana to attend Randolph-Macon Woman's College in Virginia in 1967. Her education and experience ultimately led her to the MFAH in 1976 where she founded the museum's photography department.
She is currently the Gus & Lyndall Wortham Curator of Photography for the museum. Under her leadership, the MFAH now houses a collection of 28,000 photographs. Tucker has curated over 40 exhibitions, and was named America's Best Curator by Time magazine in 2001.
Her talk was an installment in the UH Friends of Women's Studies Living Archives series, a program that offers panel discussions on diverse aspects of women's lives in Houston.
Tucker's most recent show, WAR/PHOTOGRAPHY: Images of Armed Conflict and Its Aftermath, features nearly 500 objects, including photographs, books, magazines, albums and photographic equipment.
The photographs were made by more than 280 photographers, from 28 nations, who have covered conflict on six continents over 165 years, from the Mexican-American War of 1846 through present-day conflicts. Two of the photographers – Howard G. Castleberry and Osamu James Nakagawa – are CLASS alums.
She began working on the war photography project a decade ago.
"In 2002, the MFAH acquired an extraordinary collection of over 4000 photographs which included some military photographs -- including the original print of the flag-raising at Iwo Jima," said Tucker.
"I was asked why we didn't have more military photographs in our collection. I answered, 'because I'm a girl.' I didn't grow up playing with toy soldiers so I never was attracted to the military life.
"But I was a responsible curator and clearly war photography is a major genre we should have in our collection So, the project grew from there and we were lucky to get funding to support it."
Tucker and her co-curators reviewed more than one million photographs in 17 countries, locating pictures in archives, military libraries, museums, private collections, historical societies and news agencies; in the personal files of photographers and service personnel; and at two annual photojournalism festivals: World Press Photo (Amsterdam) and Visa pour l'Image (Perpignan, France).
"We were in all kinds of archives, and saw thousands of images in a day," said Tucker to the lunch time audience. "At the end of each day we would talk about what we had seen that day and ask ourselves what images we remembered. We made a list of those images. So, our list grew from the photographs talking to us. Later, we tried to make sense of the pictures we selected." WAR/PHOTOGRAPHY: Images of Armed Conflict and Its Aftermath will be at the MFAH through February 3, 2013.
The UH Friends of Women's Studies Living Archives series presents discussions open to the public that are professionally videotaped and added to the Women's Archive at the University of Houston's Anderson Library. Previous participants include author and former diplomat, Joanne King Herring and fashion designer and mother of singer Beyoncé Knowles, Tina Knowles.
- Monica Byars
Related Links