Ready… Set… Commence!
Dean Roberts hosts new CLASS graduation celebration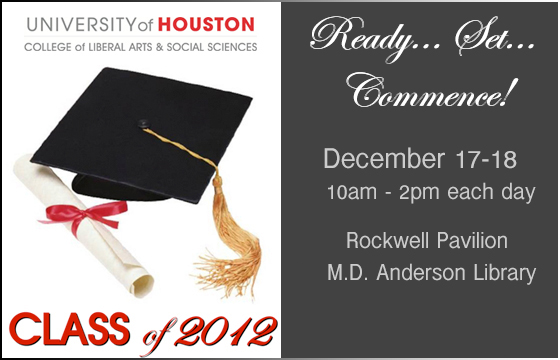 The end of the Fall 2012 semester marks the beginning of a new CLASS graduation tradition.
Dean John W. Roberts invites all 2012 summer and fall graduation candidates to join him December 17 and 18 at pre-Commencement Day celebrations of their achievements and their future success.
"Ready… Set… Commence!" is a two-day event created to give students all the information they need for graduation day, as well as encouragement to continue their educations.
"We are excited to have this opportunity to provide our graduates with information and resources that will make their graduation day less stressful," said Dean Roberts. "Being able to take care of the details in a more relaxed atmosphere will surely enhance their enjoyment of commencement, as we all come together to celebrate their accomplishments."
Commencement Day packets will be available for pick up. Graduates will also be able to get "walk cards" the credential they present at the ceremony in order to walk across the commencement stage.
They will also be able to verify the pronunciation of their names, so that when it's announced as they walk across the stage, the moment is exactly how they envisioned it would be.
Doctoral candidates can practice the hooding ceremony so that know exactly how to stand for a flawless execution at commencement.
The CLASS graduate studies coordinator will be on hand to answer questions about graduate studies programs in the College.
Participants will also be able to join the UH Alumni Association and make donations to the College in order to get a Spirit Cord to wear on Commencement Day.
At noon on both days, Dean Roberts will lead a toast to the CLASS of 2012.
- Shannon Buggs
Ready… Set… Commence!
Dates: Stop by on either Day - Monday, December 17 or Tuesday, December 18
Time: 10:00am – 2:00pm both days (come-and-go anytime)
Location: Rockwell Pavilion (M.D. Anderson Library, 2nd Floor)