NIH grant awarded to sociologist Jarron Saint Onge
Two-year federal grant sets him on "strong career trajectory" in health-related research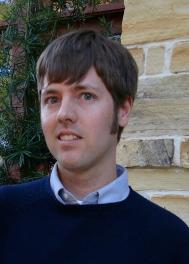 The National Institutes of Health has awarded Jarron Saint Onge, assistant professor of sociology, a R03 Small Grant through its National Institute on Aging.
"Receiving an R03 is a significant foundational step to a strong career trajectory focused on conducting important large-scale, federally-funded, health-related research," said Xavia Karner, associate professor and chair of the Department of Sociology.
Saint Onge's project, Race/Ethnic and Sex Differences in Health Behavior Patterns in the United States, provides information on underserved populations and uses nationally-representative data to explore the relationship between health patterns and physical and mental health.
The large sample size in this study will allow for the examination Hispanics, Native Americans and other groups often overlooked at a population level due to methodological issues.
The primary goal of the investigation is to identify and examine how health behaviors (i.e. smoking, alcohol use, physical activity, sleep duration) form distinct patterns across sub-populations among U.S. adults. The focus will be on health behaviors that have established relationships with health outcomes, and use them to predict self-rated health, psychological distress, cardiovascular conditions, and body mass.
Saint Onge's research applies advanced quantitative techniques to social epidemiologic phenomena. His principle research focus is on the social determinants of population health, with an emphasis on the role of health behavior patterns and biomarkers on physical and mental health,  as well as mortality disparities by race/ethnic and socioeconomic status.
In June, Saint Onge and co-author Patrick M. Krueger, an assistant professor of sociology at the University of Colorado-Denver, published in the Journal of Health and Social Behavior the results of a study that found Black and Mexican American doctors and lawyers are not more likely to play so-called "high-status" sports, such as golf and tennis, then less-educated people within their racial-ethnic group.
The American Sociological Association in a press release about the article also noted the finding that "more educated black people may actually be less inclined" to play these sports than black people with less education.
Saint Onge said there are several possible reasons why racial-ethnic differences in exercise persist and, in some cases, expand with more education.
"One possibility is that high-status minorities may seek to differentiate themselves from whites in an effort to maintain their racial and ethnic solidarity and to increase their political power," Saint Onge said. "Exercise and sports provide social contexts that allow groups to create social identities and resist—or sometimes reinforce—cultural stereotypes."
- Shannon Buggs