Instant CLASSic shows university what CLASS is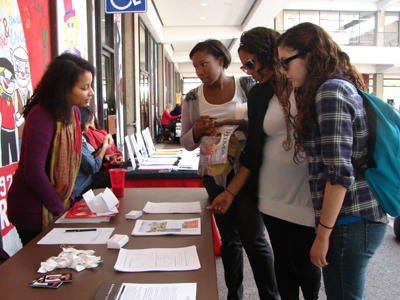 Dance minor Ashley Miles, Business major Ileana Lopez, and
Psychology major Jazmin Gomez learn about the Liberal Studies program
Student-led event underscores the value of the liberal arts and social sciences
More than 25 departments and organizations affiliated with the College of Liberal Arts & Social Sciences came together Thursday, October 20 during the second annual Instant CLASSic – a celebration of all that the College has to offer its students and the university community. 
The twin purposes of the Instant CLASSic are simple:
invite students who may not know about the endless career possibilities a degree in Liberal Arts and Social Sciences can bring them to have conversations about the College's offerings and
incite pride in all current and potential CLASS students for their College.
The twist, however, is that the event was created and is managed by undergraduate students who recruited participants from around the College. 
"Our goal is to promote CLASS in every way we can," said senior Mike Nguyen, one of the founders of the Instant CLASSic. "The liberal arts are not really taken seriously by some students. We set out to disprove that and show everyone how proud we are of being part of CLASS." 
Dean John W. Roberts applauded the student-led effort to confront misperceptions about CLASS and explain how the university's largest college benefits all students. 
"Part of our job is to teach the student body the necessary skills they will need to succeed after graduating college," said Dean John W. Roberts. "Student involvement, such as with the Instant CLASSic, is essentially what makes the university continue to move forward."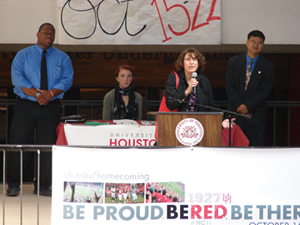 Dr. Sarah Fishman addresses the students.
Nearly 700 students stopped by the information booths set up around the University Center Arbor. The tables were hosted by academic units and student organizations as diverse as the student-run Glass Mountain literary magazine and the military services' Reserve Officers' Training Corps (ROTC). 
If undergraduates students had questions about how to transfer into the College, advisors from the  Academic  Affairs Center were on hand at the Instant CLASSic to provide answers and hand out free bags of freshly-popped popcorn. 
Departments showcased their academic programs and connected with potential students who expressed interest in declaring a major or minor or just curiosity about the curriculum. 
"Most people are not aware that we have a sign language program," said ASL interpreting senior Christie Mann. "We are glad to participate in these kinds of events to get the word out to students interested in sign language interpretation." 
Instant CLASSic was started last school year by two CLASS undergraduates Nguyen and Ryan Johnson. Over the summer, they and other students founded CLASS Coogs to give the event an official sponsor and infrastructure that would allow it to grow. 
"CLASS Coogs is now the official student organization responsible for the Instant CLASSic," said Johnson, a senior on track to graduate in the spring. "Our internship program allowed us to find the potential new leaders that will keep the Instant CLASSic going for many years to come." 
Johnson's and Nguyen's graduations won't derail the event, said Sarah Fishman, associate dean for undergraduate studies in the College. 
"Under Dean Roberts' leadership, CLASS will continue to support this event and any others where students take the initiative to get more involved with the college," said Dr. Fishman. "This level of student involvement is a dream come true." 
- Luis Zelaya
Photo Gallery


CLASS COOGS: History Senior Mike Nguyen, English Senior Ryan Johnson, Creative Writing Freshman Kate Rash


Dean Roberts meets with Janie Graham and Academic Affairs staff




Ryan Johnson introduces Dean Roberts


Dean Roberts addresses the students, faculty, and staff



Professor Lorenzo Cano talks to students interested in the Mexican-American Studies minor
 



Ryan Johnson serves free popcorn courtesy of the office of Academic Affairs



Student flash mob draws more attention to the Instant CLASSic



Spanish major Carolina Chen learns about the Study Abroad programs


American Sign Language Interpretation seniors Constance Hughes, Lindsay Van Note, and Christie Mann



Sophomore Henry Reese finds out about the different HHP programs available
 


Political Science senior Frances Paris visits the
Communication Science and Disorders information booth



Sociology Students Association hold a bake sale
 



Ryan Johnson gives his closing remarks