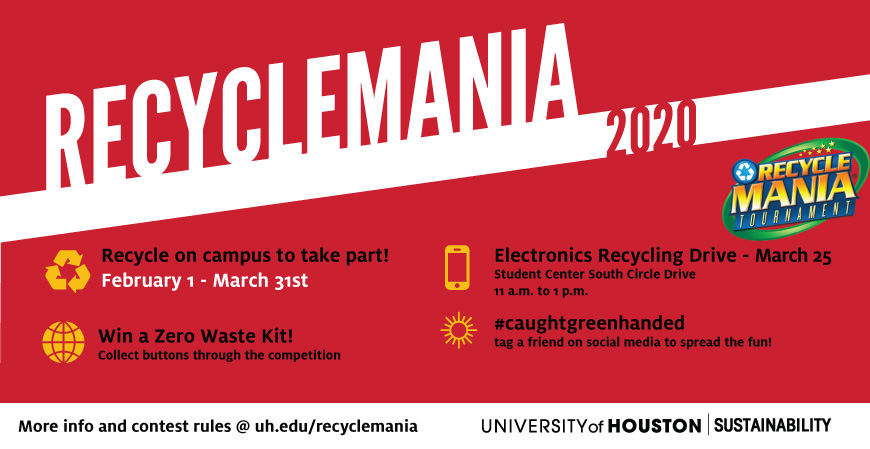 Each spring semester, the UH Office of Sustainability facilitates RecycleMania, a friendly recycling competition for universities to promote waste reduction to their campus communities. Along with auditing recycling information, the Office of Sustainability also holds weekly events to help fellow coogs be better recyclers, or just get started in the first place. Below is a list of all the events you can take part in this coming spring. The more events you attend, the better your chances are of winning awesome zero waste prizes!
Student Center Lunch and Learn
When: Tuesday February 4th, 12 PM to 1PM
Where: Student Center Skyline Room
What: Join the Office of Sustainability and the UH Student Centers to learn about recycling as you eat delicious, sustainable, local food! Experts will share their knowledge on the current state of global and local recycling as well as share tips on the most impactful ways to reduce your waste. To join, please reach out to Andrea Trevino at atrevi22@central.uh.edu.
Recycling Map Scavenger Hunt
When: Thursday February 13th, 1 PM to 3 PM
Where: The mystery is part of the fun!
What: Do you want to recycle on campus but don't have a blue bin? Is your office blue bin full and don't have anywhere to empty it? The newly made UH Sustainability Map can help you out! This map has locations of all public recycling bins on campus marked so you know the closest one to you. Thursday the 13th only, the Office of Sustainability will be posted at one RANDOM recycling location between noon and 2PM. If you find us, you get a prize!
Recycling 101 at the Student Center
When: Thursday February 20th, 12 PM to 1PM
Where: Student Center Lobby
What: If you are passionate about recycling or confused about anything at all on how to reduce waste, on this day the Office of Sustainability will be set up in the Student Center's to answer any and all of your questions. After the Q&A, a quick live video will be made to capture coogs most pressing recycling and waste reduction concerns. If you want your questions answered and your voice heard, be sure to stop by and see us on the 20th.
Recycling Facility Tour
When: Thursday February 27th, 10 AM to 11 AM
Where: Gasmer Waste Management Materials Recovery Facility
What: Join the Office of Sustainability as we tour a Materials Recovery Facility or MRF. Very many mysteries and questions around recycling can be answered by simply seeing how it is done. If you have ever been curious about what happens to your soda can or cardboard box after you recycle it, this event is for you! To come on the tour email gbdurham@uh.edu for more information. Note: you will have to be able to make it to the MRF on your own or with a carpool to attend. There will be no group transport. Tour capped at 30 participants to RSVP is required.
Composting in the Garden
When: Thursday March 4th, 10 AM to 12PM
Where: UH Campus Community Garden (by Cougar Woods Dining Hall)
What: Nature has been recycling materials way longer than people have. Composting is an activity that accomplishes all three "R's" in sustainability: it reduces need for fertilizers, it reuses old materials, and it recycles nutrients. The first week of March, come out to the Campus Community Garden to learn how to start a compost bin. Participants are encouraged to bring their breakfast scraps or other materials to learn about how to compost them! Don't tailor what you bring because half of the lesson is learning what cannot be composted as well! No need to RSVP, just come out if you can.
Transgender Inclusive Clothing Swap with GLOBAL
When: Wednesday March 18th, 10 AM to 12PM
Where: email queercoogs@gmail.com for final location update
What: Join GLOBAL at UH for a transgender inclusive clothing swap this March! Sustainability is a systemic challenge with social as well as environmental concerns. One intersection of culture and waste is the fashion industry, which will require diverse inputs to remedy and make sustainable. The transgender inclusive clothing swap will be a safe space for anyone to transition their wardrobe using only reused materials. Be sure to reach out to GLOBAL to get involved!
Electronic Waste Collection Drive
When: Wednesday March 25th, 8 AM to 1PM
Where: Student Center Circle Drive
What: Electronic waste can be very difficult to dispose of properly and can do major damage to the environment if allowed to find its way into natural areas. To address this, the Office of Sustainability holds an e-waste recycling collection drive as part of RecycleMania. The entire community is invited to bring any acceptable e-waste to these drives to dispose of them in the most environmentally friendly way. For a full list of what will be accepted, visit the E-Waste Event Page.
For more information on what prizes you can win, along with information on the "button challenge" for attending multiple events, please visit the official UH RecycleMania page.