(Left: Clear Day in Houston; Right: Ozone Action Day in Houston)
Tuesday October 9th, 2018 marked the continuation of the Sustainability Meetup series presented by the University of Houston Office of Sustainability. With the mission of making it "easier for people interested in sustainability issues to connect with each other and learn", this Meetup was focused on bringing people together with shared concern over Houston's air quality.
A long time champion for clean air in Houston, Air Alliance Houston, was the featured partner and their Director of Operations Paige Powell provided a wonderful lecture on Air Pollution, Public Health, and Environmental Justice. Paige has been a life-long advocate for public health, education, and the environment. She is a Certified Public Manager, and received a bachelor's degree in economics from our own University of Houston. Her work has brought her to the nexus of Houston's energy economy and air pollution for surrounding communities.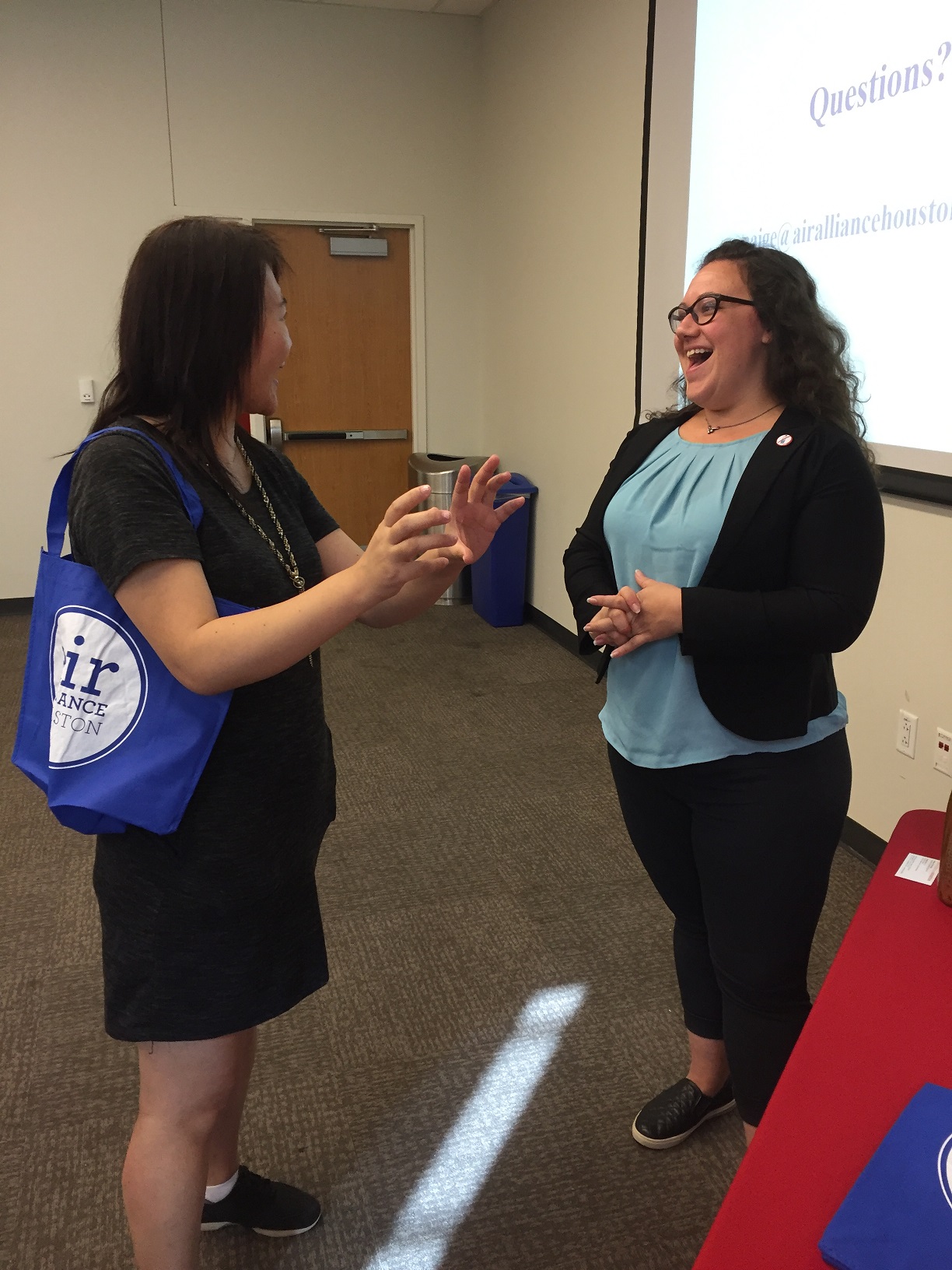 "We all know a lot of emissions are the byproduct of energy production, and as energy capital of the world, we are a direct contributor of ozone and other air toxics." Paige explained as part of her talk.

Turns out, it's not just energy production that contributes to Houston's clean air challenges. Paige also explained that the Port of Houston (one of the largest in the world) is also expected to see a 40% increase in certain forms of shipments in the next 10 years. The ships that deliver these goods bring emissions as well to add to the full spectrum. A surprising fact was that event recycling in Houston can contribute to air quality woes.

"Metal recycling facilities actually throw a lot of particulate metal into the air when they crush up large quantities of metal. Some of these are small enough to get into your lungs and blood stream." Paige explained.

The reminder of the talk was focused on answering people's questions about air quality in Houston. Many people were concerned to learn about how many toxins were released when Harvey ravaged the city. Paige explained that HARC has a great online tool to see just how much pollution was released into our community after Harvey.

So what are some things concerned Houstonians can do? Well, connecting with Air Alliance Houston can be a great first step! AAH offers many resources to help citizens keep their air clean. Paige herself has many helpful apps and links for real time air quality checking you can access here. If you are interested in helping further, be sure to send them an email for up to date programming and citizen science needs!

The Office of Sustainability is excited to continue the Meetups on November 6th with The Texas Center for Superconductivity. Be sure to RSVP on the Facebook Page for updates and more!