There is an old saying that to plant a tree is the most optimistic act a person can do. This is because it takes so long for trees to grow, one often doesn't get to see their sapling fully mature. At the University of Houston, however, our business is to invest in the future, from students to trees. A testament to the University's commitment to growing a better tomorrow is the recently published Campus Tree Inventory.
A comprehensive tree survey and inventory was one of the major goals outlined in the UH Campus Tree Care Plan, developed in 2015 by the UH Tree Campus USA Committee. In summer 2018 The Office of Sustainability and partners completed the inventory via GIS surveying technology and various value indicators for the trees were generated using i-Tree, a USDA Forest Service software.
The findings of the report show that campus trees provide added benefits beyond aesthetic or property value. For one, campus trees remove over 721 tons of carbon dioxide (a major greenhouse gas) from the atmosphere annually. This is the equivalent of removing 2000 vehicles from the road! Of these 721 tons, Oaks (the majority tree species on campus) remove 531 on their own.
Campus Trees also help campus resiliency by mitigating flood waters and cutting energy costs. One thing trees need a lot of is water, and the water they store won't end up flooding our roads. According to the report, campus trees store 14.8 million gallons of storm water annually (enough to fill 5 football fields ten-feet deep). Campus trees also cool the atmosphere around them, reducing Urban Head Island effect, thus saving UH lots of air-conditioning hours. The energy saved is enough to knock $32,000 a year off the electric bill!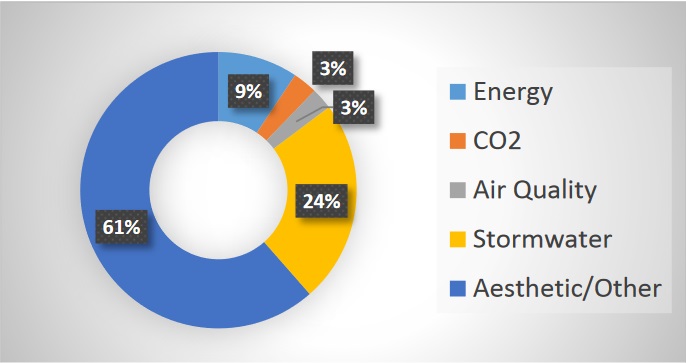 All together the report found that it would cost $16,251,880 to replace all of UH's trees. The graph to the right shows the percentage value of each contribution from the trees. With most trees being over 30 years old, and a few even making it over 100 years old, it is evident that the University has made a sustainable investment in the future of our campus and climate.
Continuing this commitment, the Office of Sustainability held the annual Arbor Day tree planting on November 16th with the assistance of the Metropolitan Volunteer Program. The Office team along with committed volunteers planted a 30 gallon Florida Flame Maple Tree in the Campus Community Garden at the corner of Cullen and Wheeler. This addition will further all the benefits described above and turn a bright cougar red each fall!