Insight into Diversity Magazine Honors Program with Major Award
The teachHOUSTON program at the University of Houston received the 2023 Inspiring Programs in STEM Award from Insight into Diversity Magazine.
The award honors college and university programs that encourage and support students from underrepresented groups to enter the fields of science, technology, engineering and mathematics (STEM).
Insight into Diversity Magazine selected teachHOUSTON for its efforts to mentor and train a new generation of students to enter STEM teaching careers.
Addressing the Need for Teacher Diversity
teachHOUSTON is UH's secondary STEM teaching program that addresses the need for diverse and highly qualified STEM teachers locally and across the country.
The program, a collaboration between the UH College of Natural Sciences and Mathematics (NSM), UH College of Education and local school districts, provides both compact and flexible degree plans that include teacher certification for NSM majors to teach grades 7-12. The program does not add any cost or time to a student earning a four-year degree.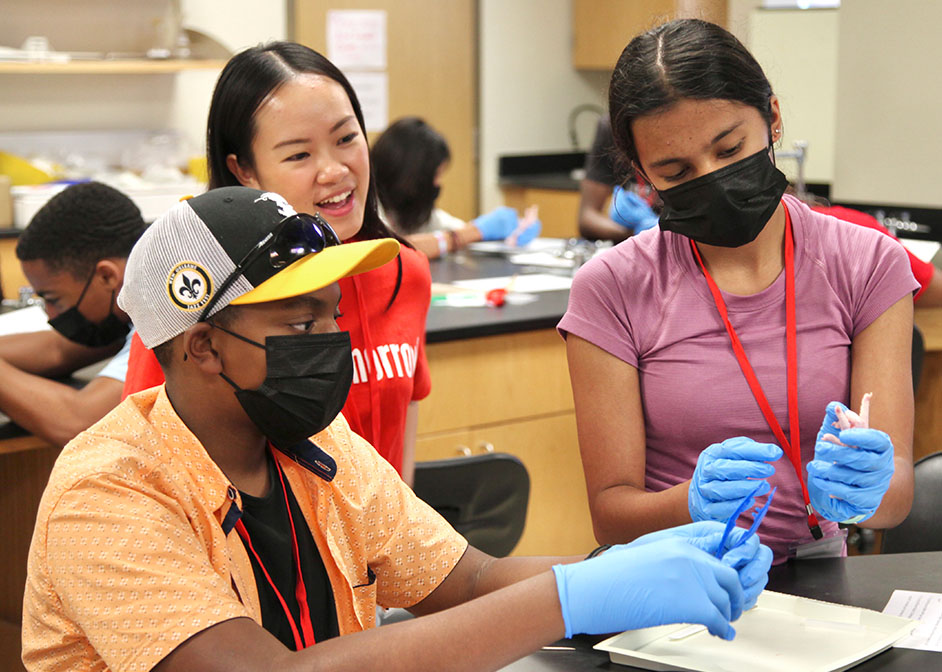 teachHOUSTON's focus on diversity and all-inclusive educational opportunities was key in earning the award.
"Approximately 70% of our graduates are minorities," said Paige Evans, co-director and clinical professor for teachHOUSTON. "We focus specifically on preparing teachers to teach in diverse school settings."
Supporting Students to Become STEM Teachers
teachHOUSTON equips soon-to-be STEM teachers on a path for teacher certification through field experiences and research-based instruction from faculty who have previous experience teaching in public schools.
Additionally, students are supported through grants that fund scholarships to 85% of program participants during their journey through the teachHOUSTON program.
Students are exposed to teacher training experiences in several ways throughout their four years at UH.
Summer STEM camps on the UH campus involve teachHOUSTON students leading classroom and lab activities, allowing them to interact with age groups they could potentially teach.
teachHOUSTON students also participate in student teaching that offers a traditional certification pathway and paid teacher residency pathway. The traditional certification pathway includes one semester of student teaching as a full-time, 14-week immersion experience in a public school setting. The paid teacher residency pathway lasts two semesters with clinical teaching for a minimum of three days per week in a co-teaching setting with a supervising mentor teacher.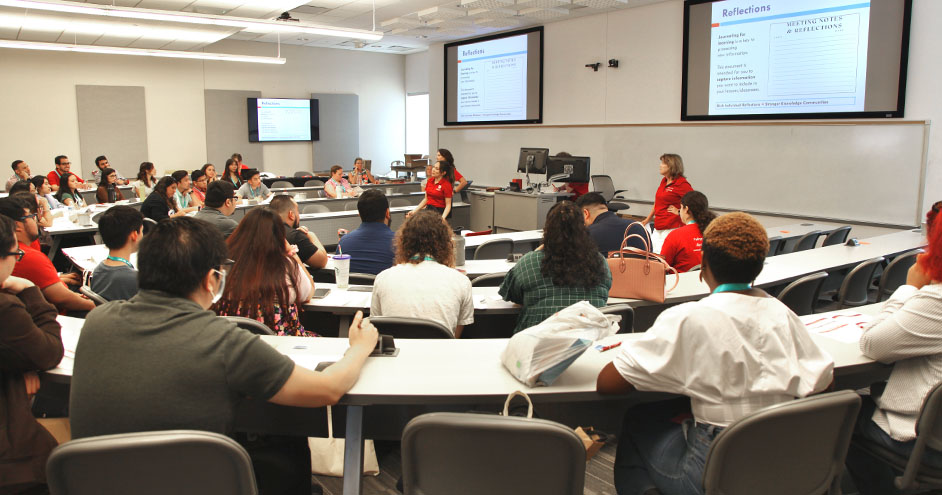 Another way teachHOUSTON prepares future teachers is through the STEM Research Inquiry Summer Enrichment (STEM RISE) program. STEM RISE is a partnership between teachHOUSTON, the UH Tilman J. Fertitta Family College of Medicine, and Jack Yates High School. The eight-week research program pairs NSM teachHOUSTON students and UH medical students who serve as peer mentors for students participating in STEM RISE from Jack Yates High School in Houston's Third Ward.
Ensuring Success Through the CenterPoint Energy New Teacher Academy
As teachHOUSTON students graduate, they are invited to participate in the program's final step, the CenterPoint Energy New Teacher Academy. The academy, held each summer, is a workshop for recent teachHOUSTON graduates who are preparing to enter the classroom for the first time as teachers.
Academy mentors are UH alumni who have years of teaching experience. They offer guidance and resources to help recent graduates succeed in their first teaching job.
"The nature of the classroom is constantly changing, so it's important that we encourage our alumni who know what is happening in the field to come back and offer their expertise," said Amanda Campos, master teacher and university supervisor for teachHOUSTON and CenterPoint Energy New Teacher Academy coordinator.
Providing a Boost for School Staffing
Since 2007, teachHOUSTON has produced over 500 STEM teachers.
"The results of the teachHOUSTON program have been phenomenal in terms of supplying new teachers to Houston area schools," Evans said. "Each year, an average of 95% of teachHOUSTON graduates stay in the Greater Houston area. Additionally, 81% of graduates remain teaching after five years."
Olivia Pittman, a program graduate and second-year teacher at Houston ISD's Jack Yates High School, credits her success as a teacher to the solid foundation she received from teachHOUSTON.
"I was able to go into my classroom having a good idea of what to expect," Pittman said. "I was better prepared to meet the needs of my students."
Among the graduates, 80% in the Houston area are teaching in high-need schools.
Building a Pipeline for Future STEM Students
Evans added that another goal of teachHOUSTON is to have more underrepresented or underserved students as STEM majors once they reach college.
She believes the award will help reinforce those efforts.
"This award shows that we are leaders in STEM teacher education at the University of Houston," Evans said. "It also spotlights our efforts around preparing highly qualified, diverse STEM teachers."
teachHOUSTON is one of 79 award recipients featured in the magazine's September 2023 issue. The program is highlighted on page 76.
- Chris Guillory, College of Natural Sciences and Mathematics