Award Presented by UTeach STEM Teachers Association
Jacqueline Ekeoba, clinical assistant professor and master teacher for teachHOUSTON at the University of Houston, received the Outstanding Master Teacher Award recognizing her for dedication to excellence in teaching STEM disciplines. Master teachers are at the heart of STEM teacher preparation programs.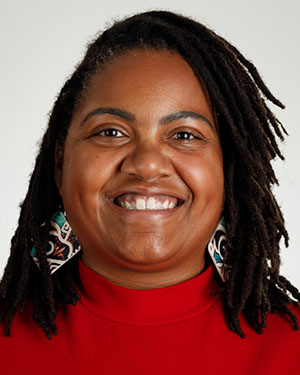 She received the award from the UTeach STEM Educators Association, a network of 55 universities preparing outstanding secondary STEM teachers across the country. It was presented at the UTeach STEM Educators Conference.
Ekeoba, an alumna of UH, was an undergraduate student in the inaugural cohort of UH's teachHOUSTON program. She later earned an M.A. in STEM education and engineering from the University of Texas at Austin and recently completed her doctoral degree with the STEM education program at Texas Tech University. She specializes in argumentation, global collaboration, STEM integration and anti-racist education in secondary STEM contexts.
After graduation from UH, she began her career in secondary education. After several years teaching high school science courses, Ekeoba served as a curriculum writer and science instructional coach for Katy Independent School District. There, she spearheaded the development of inquiry-based, hybrid instructional tools in science with her fellow instructional coaches and teacher leaders.
In 2019, she combined her passions for serving in-service teachers and mentoring pre-service teachers and returned to UH as a lecturer and science master teacher for teachHOUSTON. Currently, she serves as director of certification and testing for teachHOUSTON and instructor of the program's Research Methods in STEM course.
Ekeoba serves as co-principal investigator and senior personnel on several grant initiatives.
In 2019, she co-designed curriculum for teachHOUSTON's ACP for STEM at UH, an alternative certification option for STEM career changers. She has participated in community outreach with numerous STEM camps since 2008, including serving as program director for teachHOUSTON STEM Interactive, a virtual summer program that served 3,000 participants worldwide at the height of the COVID-19 pandemic.
At UH, she continues to be instrumental in community engagement initiatives focused on social justice in STEM education, serving as a co-principal investigator for the STEM RISE program, a professional trainer for the Houston Genetics BIORETS program, and as an active member of the DEI Committee of the College of Natural Sciences and Mathematics.
Ekeoba has served on several UTeach committees, including UTeach Alumni Program, USEA Leadership Development and USEA Strategic Planning.
While an undergraduate at UH, her involvement in teachHOUSTON led to the creation of the teachHOUSTON Student Society, where she served as the inaugural president. The student group continues to be active on campus. She serves in the teachHOUSTON Alumni Association and supports new teacher induction in various capacities.
Ekeoba also mentors youth with her church congregation and through the Scholarship for Academics, Leadership and Transformation – SquareInch Houston in Third Ward.
Throughout her career, she has received numerous awards, including Katy ISD's Outstanding Teacher designation in 2013, I10 Media's 40 Under 40 Influential Award in 2014, an NSF STEM-for-All Video Showcase Public Choice Award in 2021, and a UH 50-in-5 Faculty Award for 2022. She was a finalist for the UH Teaching Excellence Group Award in 2023.