Award Presented by UTeach STEM Teachers Association
Paige Evans received the Outstanding Master Teacher Award recognizing her for excellence in teaching STEM education. Master teachers are at the heart of UTeach STEM teacher preparation programs.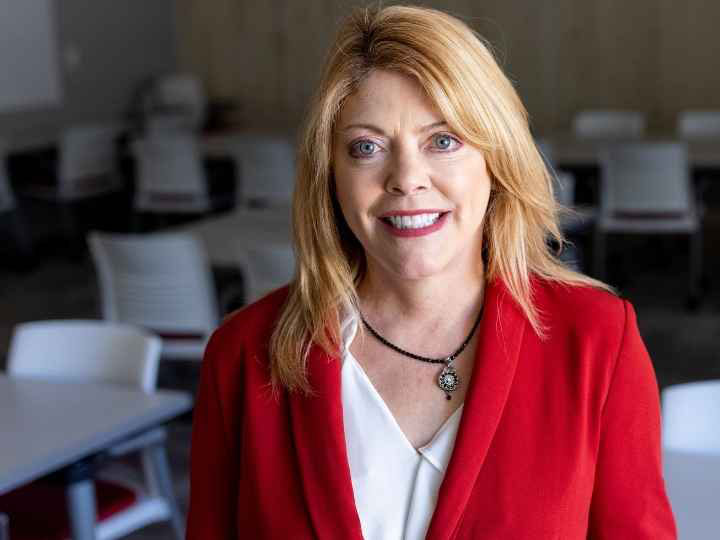 The award was given by the UTeach STEM Educators Association, a network of 50 universities preparing outstanding secondary STEM teachers across the country. It was presented at the annual UTeach STEM Educators Conference in Austin.
Evans is a co-director, master teacher and clinical professor for the teachHOUSTON program at the University of Houston. She teaches and oversees teachHOUSTON program courses in the Department of Mathematics.
Prior to joining the UH faculty in 2008, she spent 18 years as a math/science educator and served in various leadership positions.
A known leader in the development of STEM education training and programing, Evans has secured approximately $14 million in grant funding throughout her time at UH. She is the principal investigator/co-principal investigator on several federal grants funding programs designed to broaden STEM participation and improve STEM literacy for all.
Evans frequently publishes and presents on her research interests that include STEM teacher preparation, STEM education, and culturally responsive pedagogy. She recently co-authored the book, Preparing Teachers to Teach the STEM Disciplines in America's Urban Schools.
Evans is a past president of the UTeach STEM Educators Association and was an American Physical Society Physics Teacher Education Coalition Fellow.
Her honors include four UH Teaching Excellence Awards, most recently the 2022 UH Distinguished Leadership in Teaching Excellence Award. Additionally, she has received the American Educational Research Association Narrative Inquiry Outstanding Publication Award, the American Physical Society Award for Improving Undergraduate Physics Education, the UH 50-in-5 Faculty Award, and National Science Foundation STEM for All Video Showcase Awards in 2021 and 2022.