Students Spend Three Weeks in Arctic for Undergraduate Student Instrument Project
It is one of the most spectacular sights Alexandra Ulinski has ever witnessed. The aurora borealis glowing in the night sky in Alaska took her breath away, in addition to the frigid cold temperatures outside.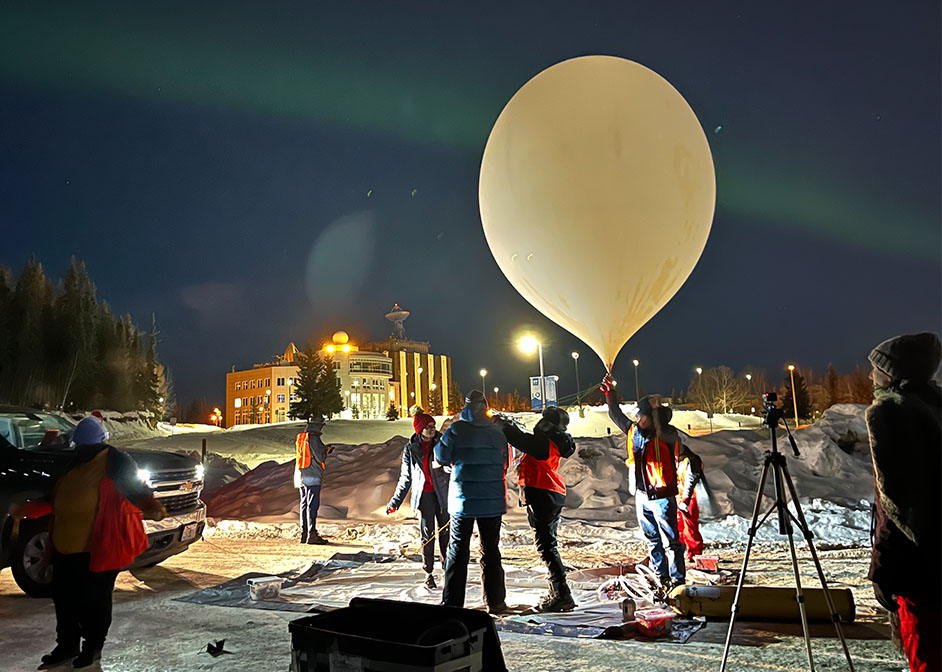 The northern lights provided a jaw-dropping backdrop as Ulinski and her fellow University of Houston peers prepared to launch a payload into the atmosphere as part of the Undergraduate Student Instrument Project (USIP).
The project is a two-year program led by Edgar Bering, professor of physics at the UH College of Natural Sciences and Mathematics. It provides students the opportunity to design and build airborne experiments or ground instruments to study physics, atmospheric science or earth science.
Students enroll in multiple classes to build their experiment. The project culminates in a three-week trip to Fairbanks, Alaska to put their experiments to the test. This year, 14 undergraduate students traveled to the Arctic. They formed six teams: conductivity, microplastics, frequencies, high-energy particles, remote sensing and project DAGGER, which stands for Diagnostic of Air Glow in Ground-based Emission Research.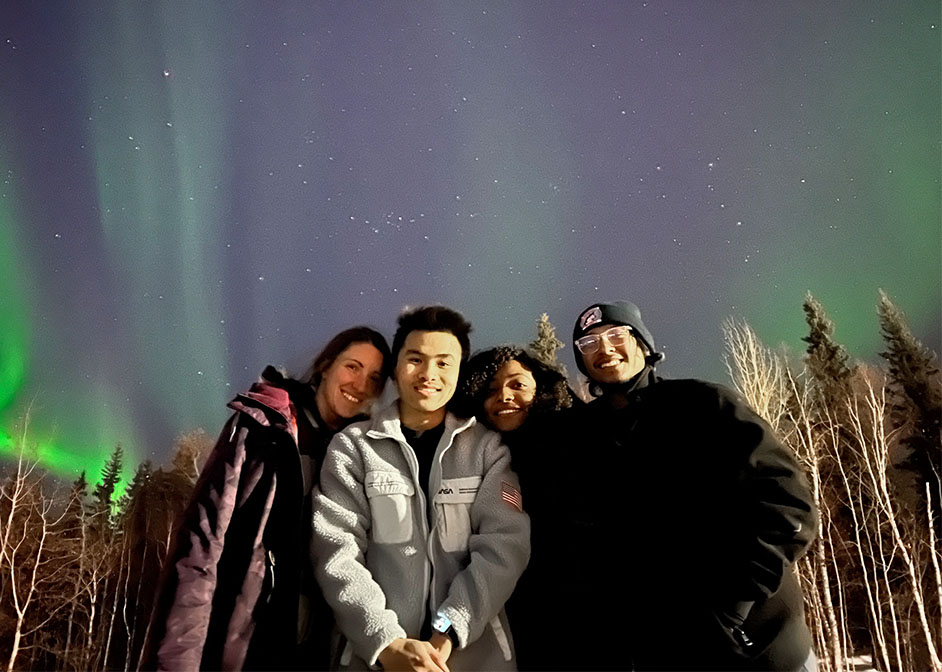 Ulinski, who graduated in May with a Bachelor of Science in physics, was team-lead of the conductivity group and served as science manager over all teams, which meant she was involved with management of all six experiments.
"My experience was exhausting," the physics student said. "It was action packed."
Carlos Salas, who also graduated in May with a Bachelor of Science in physics, joined Ulinski on the conductivity team.
"It was an amazing, hands-on experience," Salas said. "It gets so hands on that at a point you could freeze your hands off."
The coldest it got on their trip was -14 degrees Fahrenheit. The cold temperatures were why Ulinski was chosen as driver for the remote sensing team to an underground site to collect ground penetration radar data. She grew up in the north and has experience driving in the snow, she said with a smile.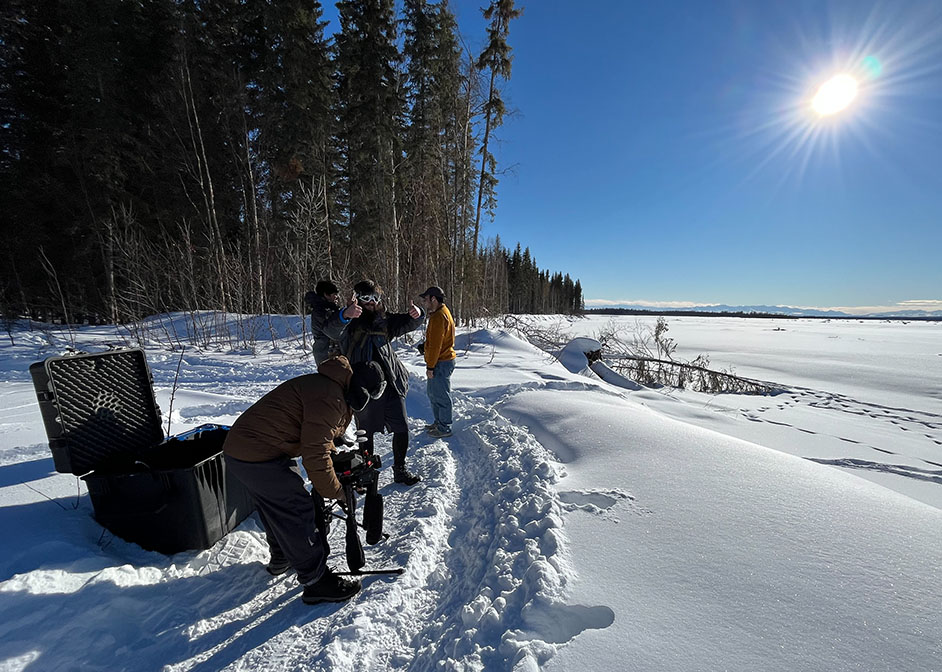 Shift in Responsibilities
Originally, the remote sensing team wanted to use lidar to scan areas prone to avalanches and landslides to understand what is happening beneath the snow. Lidar scanning uses lasers to measure distances to the Earth. Due to technical difficulties, the team had to switch gears.
Professor of geology Shuhab Khan was also on the Alaska trip, so the remote sensing team helped him with research on the permafrost layer instead. This is an underground layer of soil and rocks in the Arctic that remains frozen year after year. Recently, it has been melting and forming sinkholes.
The group drove to an underground tunnel where Khan and students gathered data and Ulinski had to learn how to use the data collection instrument on the fly.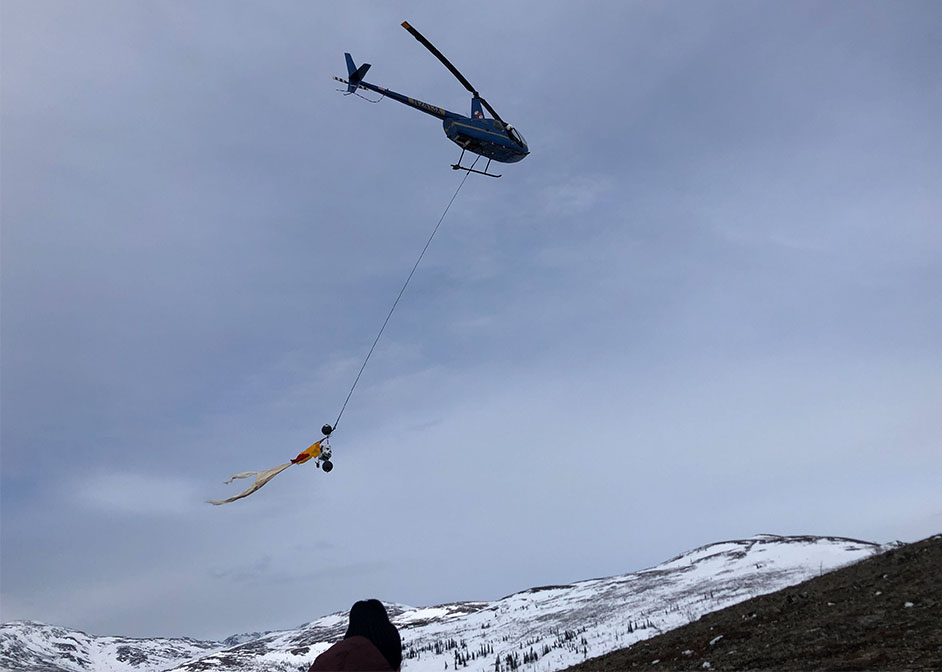 From Classroom to Arctic Tundra
As part of the conductivity team, Ulinski, Salas, Andy Nguyencuu and Rachel Nathan built an instrument that involved a circuit, a six-foot boom and conductive spheres. They intended to measure how well charged particles move through the air at a height of 20 to 30 kilometers.
The earth's atmosphere has a continuous current that carries charge. The study of conductivity, Ulinski said, could help researchers understand how much aerosol content there is in the atmosphere. Aerosols are microscopic, solid particles in the air.
The team's instrument got stuck in a tree due to launch complications, but they hope to relaunch the payload this summer in Texas so Nathan can present the group's findings at a conference.
The experience taught Ulinski to plan thoroughly.
"You hope for the best scenario, but you have to be prepared and expect every part of it to fail," she said. "If you expect every part of it to fail, then you can be prepared ahead of time for anything that breaks or doesn't work."
For Carlos, he enjoyed putting his book knowledge to the test.
"You learn all this stuff in class and you think, sure that theory has been proven," he said. "But it wasn't until we were out there making our own measurements and hypotheses, that we saw what scientific processes professors went through. You see with your own eyes and hands how the natural world can be understood through scientific principles."
Getting Involved
USIP is funded in part thanks to the UH Office of the Provost Cougar Initiative to Engage (CITE), NSM contributions and local donors. The project began in 2013 and has remained strong since.
It is a collaboration between NSM, Cullen College of Engineering, College of Technology and the Honors College.
Students can get involved with the project by visiting the USIP website.
- Rebeca Trejo, College of Natural Sciences and Mathematics