Work to Involve Applications in Quantum Communication, Computing and Enhancement of Diagnostic Tools
Sarah Chehade, a University of Houston mathematics Ph.D. graduate in Spring 2021, was awarded a position as a Research Associate in Quantum Computational Science at Oak Ridge National Laboratories (ORNL). She will begin the appointment in January 2022. Chehade is currently the Data Science Fellow at Service Robotics & Technologies, Inc. (SRT).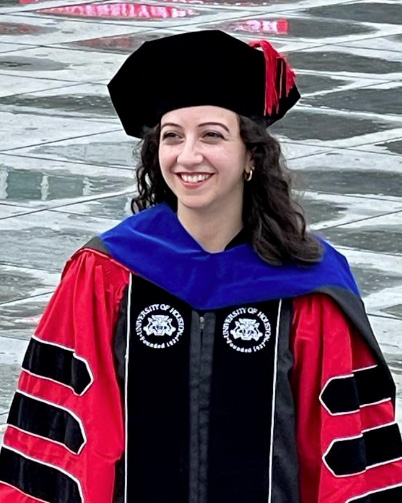 At SRT, Chehade supports the research and development of machine learning algorithms for big data. Her fellowship work has focused on pattern and anomaly detection applied to machine monitoring.
As a Research Associate, Chehade will engage in supporting the development of applications in quantum communication, computing, and the enhancement of diagnostic tools. She will work on solutions to problems of national interest, creating the structures that will support effective means of resolution. Her role will intersect the academic, institutional and government sectors, as the position will entail the writing and presentation of research to these varied bodies.
Chehade's background makes her a highly qualified member of SRT's staff. Her Ph.D. work involved the evaluation of theoretic inequalities relating to quantum entropy. Her Ph.D. advisor was Anna Vershynina.
While at UH, she was a supportive figure among her peers, assisting other students by teaching calculus and tutoring. She also provided leadership in many roles at the department, college and university level, including serving as the Department of Mathematics representative on the College of Natural Sciences & Mathematics Graduate Student Advisory Board.
An advocate for diverse groups having access to STEM, Chehade is an alumna of the Enhancing Diversity in Graduate Education (EDGE) organization. She has been an active member in the Association for Women in Mathematics (AWM), the American Mathematical Society, the Society for Industrial Applied Mathematics, as well as the Institute for Mathematics and its Applications.
She served as president of UH's local AWM chapter and worked significantly with EDGE—both are highlighted as some of her fondest collaborations in her academic years.
"Sarah has been at the ground floor of R&D for developing our company's internal structures for data analysis. She has made valuable contributions, which allow us to scale and grow. ORNL is getting a fantastic researcher and colleague, and we can't wait to watch where Sarah's work takes her!" said Karoline Pershell, Ph.D., SRT COO and Director of Evaluation, and former AWM Executive Director.
- News Courtesy of Service Robotics & Technologies, Inc.