Program Offers Collaborative Research Experience for International Group of Speleothem Scientists
Ali Raza participated in a one-of-a-kind experience for students in his field.
Raza, a geology Ph.D. student who is part of the Paleoclimate Geochemistry Research Group at the University of Houston, joined other researchers at the Summer School on Speleothem Science (S4) at the University of São Paulo in Brazil.
The session, which took place in August, helped further his research into stalagmites found in caves. Speleothem science is the study of mineral deposits inside caves. Stalagmites are the kind of sediments that grow vertically from the floor of a cave.
"I learned about this summer school from my advisor, Dr. Voarintsoa," said Raza.
His advisor, Ny Riavo Voarintsoa, is an assistant professor of sedimentary geology in the Department of Earth and Atmospheric Sciences (EAS) at the UH College of Natural Sciences and Mathematics (NSM).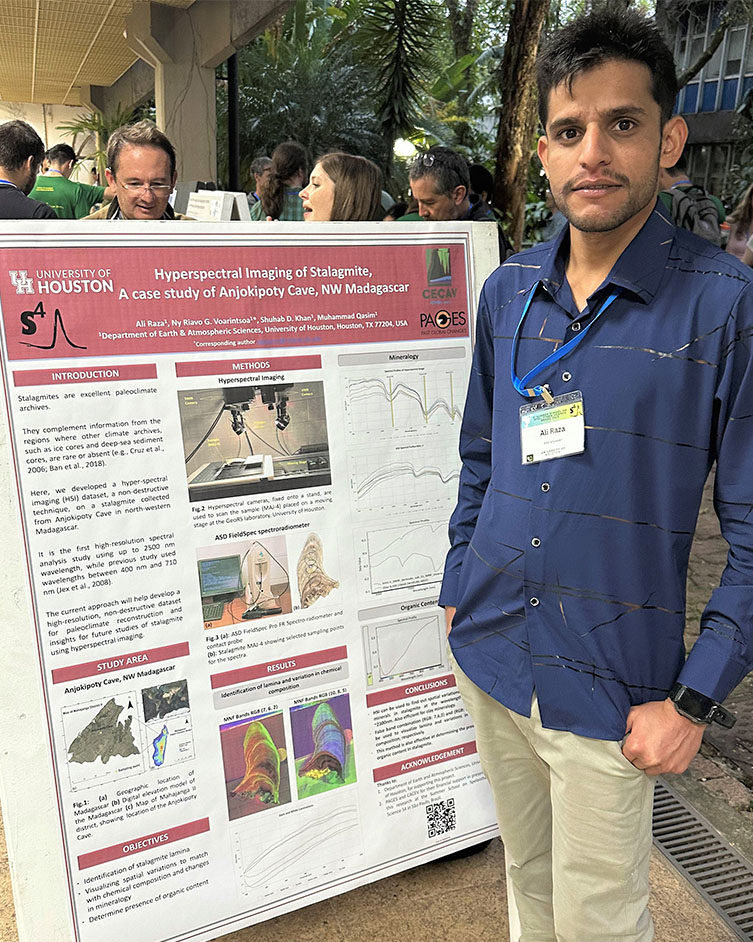 "The Summer School on Speleothem Science presents an excellent opportunity for young researchers to develop their skills while gaining insight from world-leading experts," said Voarintsoa. "Ali was the perfect candidate to take part in this experience."
Developing a New Way to Study Stalagmites
Raza's research focuses on developing a non-destructive way to study stalagmites by using high-resolution hyperspectral imaging. Stalagmites are secondary carbonate sediments formed in caves and serve as excellent paleoclimate archives, preserving evidence of past changes in climate.
Hyperspectral imaging captures a range of wavelengths, usually from ultraviolet to infrared, that help researchers identify minerals and other materials through their spectral signatures. Raza received support for his hyperspectral imaging from Shuhab Khan, UH professor of geology.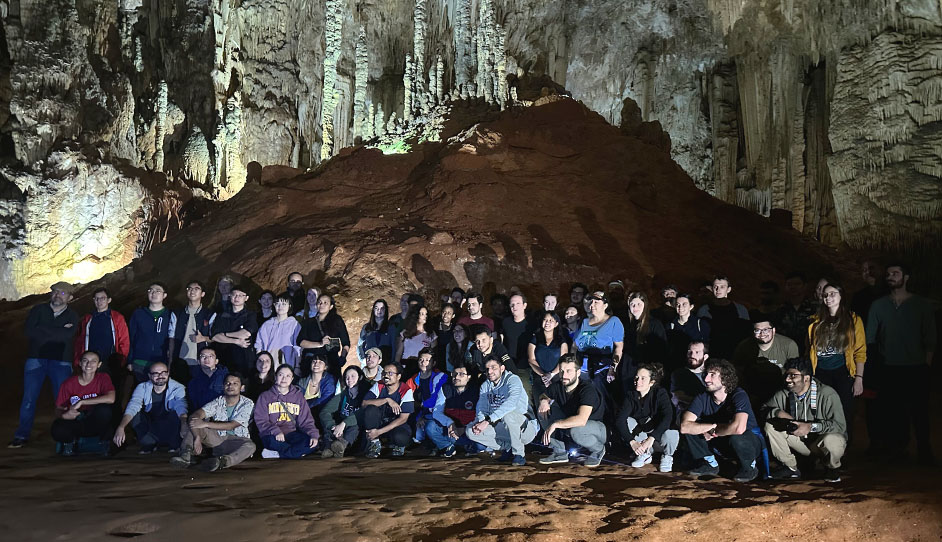 In his work, Raza examines samples from Anjokipoty Cave, located in northwestern Madagascar. This cave preserves various stalagmites that are suitable for this type of study.
Opportunity to Learn and Exchange Ideas
S4 is an event that attracts experts from around the world to share their knowledge and exchange ideas through lectures, workshops and field trips. It takes place every two years, each time in a different country. The goal is to train future speleothem scientists.
Raza and other attendees shared their work through an informal poster session, creating a space for students to receive feedback and to exchange ideas with experienced researchers.
Raza also took part in the field work component of S4, along with researchers from around the world. He learned about the type of research being done inside the unique caves located in the Parque Estadual Turistico do Alto Ribeira, a region located south of São Paulo.
"The experience has helped me tremendously as I work to further my research in stalagmites," said Raza.
Support for Ongoing Research
Raza earned funding for his ongoing doctoral research through a $1,000 grant from the EAS Research Grants Program. The program awards funds to students to carry out and publish their research.
He credits support from UH for fostering his growth as a researcher.
"The guidance provided by my mentors at UH EAS has proven immensely useful," said Raza. "I am grateful for the opportunity to attend S4, and I appreciate all of my mentors who encouraged me to pursue this opportunity."
Raza also received travel grants from NSM and the Geological Society of America's (GSA) On To the Future program. This support not only assists him in presenting his research at the annual GSA Connects Conference but also serves to promote cultural diversity within GSA.
- Chris Guillory, College of Natural Sciences and Mathematics