Winners Include Ph.D., Post-Bac, and Undergraduate Students
University of Houston Department of Earth and Atmospheric Sciences students placed first, second and third at the 17th Annual Conference on African Exploration and Production.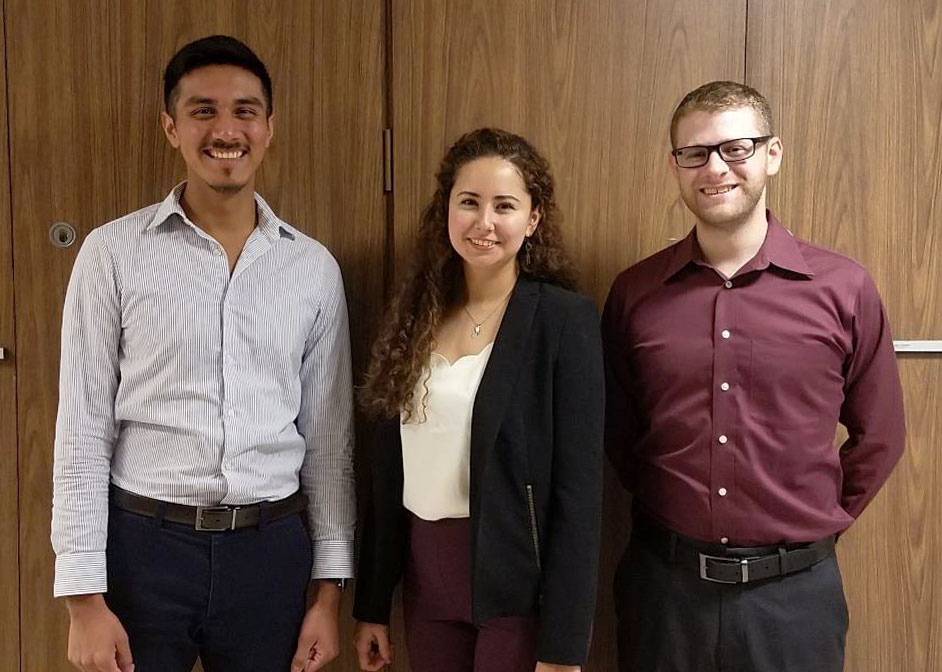 The conference, titled "Big Continent, Big Ideas and Big Opportunities," was jointly organized by the Houston Geological Society and the Petroleum Exploration Society of Great Britain. The meeting was held on September 11-12 at The Norris Conference Center at Houston CityCentre.
The international conference drew 300 participants and covered all aspects of African exploration and production with particular emphasis on recent discoveries in West Africa along the transform margin, salt basins and emerging areas of Senegal and Mauritanian margins, as well as offshore Mozambique and Somalia. All three winners also participated in a one-day short course hosted by Dr. Neil Hodgson titled "Seismic Workshop: African Margin Petroleum Systems."
EAS alumnus Kyle Reuber (Ph.D. '17) served on the Houston Geological Society's conference steering committee.
EAS Student Winners
First Place – Marcus Zinecker

A first-year Ph.D. geology student, Zinecker took first place honors and a $500 check with his poster "Plate tectonic framework for petroleum systems of Atlantic Conjugate margins: Northwest Africa-Eastern USA and Northeast South America-Equatorial West Africa." In his poster, he compared the stratigraphy, key source and key reservoir intervals of the Guinea Plateau offshore Northwest Africa, Blake Plateau offshore eastern North America, and the Demerara Rise offshore northeast South America, and put them into a plate tectonic reconstruction of the Central Atlantic Ocean. Zinecker is a graduate research assistant with the Conjugate Basins, Tectonics and Hydrocarbons project.
Second Place – Omar Zavala
A recent EAS graduate, Zavala ('18) earned second place honors and won a $300 check from the meeting organizers with his poster "Rift history of the South Atlantic Ocean from subsidence histories of offshore wells and low-temperature thermochronology cooling ages from the South American and West African conjugate margins." He used his own compilation of 26 passive margin wells on the two conjugate margins along with 1272 LTT ages from the South American coastal zone and 801 LTT ages from the West African coastal zone. By applying analytical methods, such as a Natural Neighbor Interpolation and histograms, he interpreted the data for geologic trends dealing with the effects of Andean uplifting, correlations with faster spreading to marginal uplifting, and hot-spot influences. Zavala was also an undergraduate research assistant with the Conjugate Basins, Tectonics and Hydrocarbons project.
Third Place – Geraldine Tijerina
Tijerina, an undergraduate geology student, placed third and received a $200 check with her poster "Constraints on Central Atlantic rifting based on a compilation of low-temperature thermochronology ages from rifted, conjugate margins of the east coast of the USA and Northwest Africa." Geraldine used the DZ Stats software developed by Saylor and Sundell (2016) and Natural Neighbor Interpolation tool by ESRI on ArcGIS to compare the cooling age trends and break up of central Atlantic conjugate margins using 551 published low-temperature thermochronology data points on the northeastern U.S. margin and 598 data points on the northwestern Africa margin. Tijerina is an undergraduate research assistant with the Conjugate Basins, Tectonics and Hydrocarbons project.
The meeting is held each year alternately in Houston and London. In each of the last two meetings in Houston, students from the Conjugate Basins, Tectonics and Hydrocarbons project also won first, second and third place in the poster competition.