Faculty and Grad Students Contribute to AAPG Memoir on Colombian Petroleum Geology and Geophysics

Twenty-Two EAS Faculty and Students Involved in Newly Published Memoir
The American Association of Petroleum Geologists (AAPG) recently published Memoir 108 on the petroleum geology of on- and offshore Colombia. The memoir was co-edited by Dr. Claudio Bartolini, an exploration geologist with Repsol USA in The Woodlands, Texas, and Dr. Paul Mann, a professor of geology with the Department of Earth and Atmospheric Sciences at the University of Houston.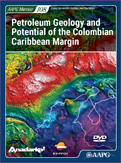 The interdisciplinary geologic and geophysical volume that was three years in preparation includes 270 pages in the published volume and an additional 730 pages on an enclosed DVD. Twenty-two EAS faculty and graduate students contributed to newly published AAPG memoir.
This volume consists of 27 multidisciplinary papers which include a wide range of geological and geophysical topics, such as geochemistry and petroleum systems, earthquake seismology and tomography, seismic stratigraphy and sedimentology, oil and gas exploration plays, carbonate and siliciclastic petrology, basement studies, regional tectonics and structural geology, fold belt structural analyses, potential methods, and studies on the Magdalena fan.
Of the 27 chapters in the volume, seven were first-authored by graduate students in the UH EAS department.
The student-authored chapters include three chapters by EAS Colombian Ph.D. student Rocio Bernal; the works represents all three chapters of her 2015 Ph.D. dissertation.
Other EAS student-authored chapters were by Javier Sanchez, a Colombian Ph.D. student who graduated in August 2015 and is now a postdoctoral researcher at UH; Luis Carlos Carvajal, another Colombian Ph.D. student graduating in 2016; and Joan Blanco, a Venezuelan Ph.D. student graduating in 2016. One paper represents the Ph.D. work by Mexican Ph.D. student Armando Altamira, who graduated from UH in 2009.
Departmental faculty members, who contributed to the volume either a co-authors or as members of a student's EAS dissertation committee, included: Dr. Kevin Burke, Peter Bartok, Dr. Michael Murphy, Dr. Dale Bird, Dr. Peter Emmet, Dr. Shuhab Khan, Dr. Peter Copeland, Lucia Torrado, Carolina Mejia, Murad Hasan, and Luan Nguyen. One chapter was contributed by Dr. Carlos Zuluaga of the National University of Colombia; he conducted lab analyses and wrote the article while a visiting faculty member at the EAS department in fall 2014.
The cost of producing such a large volume with an enclosed DVD was made possible by generous grants from Repsol and Anadarko. The book is available to order through the AAPG Books website: http://store.aapg.org/detail.aspx?id=1218.