Brought Together Evolutionary Biologists from Regional Institutions
This June, University of Houston's Department of Biology and Biochemistry hosted the first annual Southeast Texas Evolutionary Genetics and Genomics (STEGG) conference. This event brought together over 100 faculty, postdoctoral fellows and students for a full day of talks, poster presentations and networking opportunities.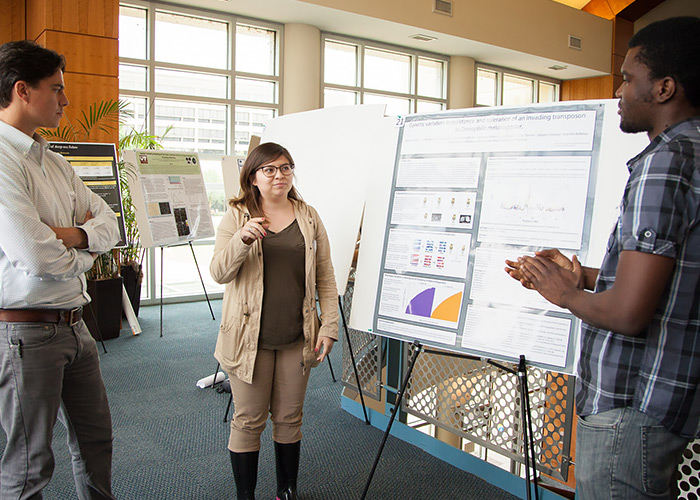 UH undergraduates Uchechukuru Akoma (right) and Lily Ortega present their research findings at the STEGG Conference.Conference organizers included UH assistant professors of biology and biochemistry Erin Kelleher, Richard Meisel and Elizabeth Ostrowski, along with Stephen Richards, assistant professor in the Department of Molecular and Human Genetics and Human Genome Sequencing Center at Baylor College of Medicine.
"Establishing an annual regional conference of evolutionary biologists working in genetics and genomics will promote a sense of community, foster new research directions and leverage the strengths of different institutions," Meisel said.
Talks spanned a wide range of topics within the evolutionary genetics and genomics field, including titles such as "How bacteria and cancer cells regulate mutagenesis and their ability to evolve," and "The evolution of genome size and complexity." Presenters were a mixture of faculty, postdoctoral fellows and graduate students from different institutions.
"Explaining my research to a group of diverse scientists was a very valuable experience," said Ata Kalirad, a UH Ph.D. student who gave a talk on his research. "When you become so specialized in your research, it can be really hard seeing your work from a different perspective."
Midday, 30 conference participants, including undergraduate students, presented posters on their research. The poster topics served as a testament to current capabilities for evolutionary genetics and genomics research, with study populations ranging from Norwegian rats and rhesus monkeys to East Texas mussels, boll weevils and wildflowers.
"The goal for this conference is to develop new collaborations to find different approaches to the same question or to find ways in which small overlaps in interests can answer larger questions," Meisel said.
Institutions in attendance included Texas A&M University (College Station and Galveston), University of Texas (Austin and Tyler), Rice University, Baylor College of Medicine and UT MD Anderson Cancer Center. Sponsors for this conference included UH's Department of Biology and Biochemistry and the Division of Research, along with the companies Illumina, Genialis, Saint Arnold Brewing Company and Sinauer Associates, Inc.
- Rachel Fairbank, College of Natural Sciences and Mathematics