Regional Ecology and Evolution Symposium to Become Annual Event

Activity Brings Together Faculty and Students from Five Institutions
Near the end of the spring semester, University of Houston's Department of Biology and Biochemistry hosted a regional conference on ecology and evolution. The event brought together faculty, postdoctoral fellows, and undergraduate and graduate students from UH, Texas A&M University (College Station and Galveston), Rice University and Baylor College of Medicine.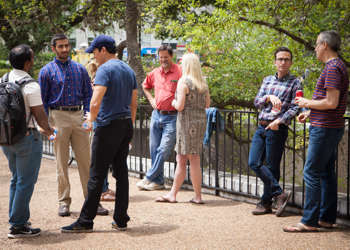 Organizers hope this first-time event will become an annual activity for those studying ecology and evolution in the Gulf Coast region. The research covers a broad range of fields, including ecosystem ecology and climate change, community ecology, experimental evolution, population genetics and computational biology.
"Our goal was to bring together students, postdocs, and faculty from nearby institutions working in the fields of ecology and evolution," said Rebecca Zufall, conference organizer and associate professor of biology and biochemistry. "We wanted to give students an opportunity to talk about what they are working on, meet others with similar interests, and exchange ideas."
The event grew from a joint meeting held for the last few years with Rice University. "We knew there was a rich pool of folks working in these fields in other nearby institutions, so it only made sense to reach out to them," Zufall said.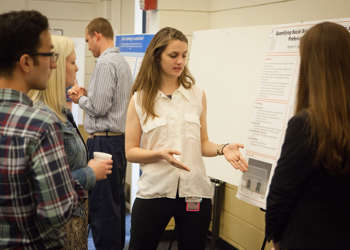 Fifty people attended the event, and participating students gave oral or poster presentations. The presented work was performed in diverse systems, including seals, slime molds, ciliates, turtles, turkeys and flies.
Ecology and evolution Ph.D. student Jason Tarkington gave an oral presentation at the symposium and enjoyed hearing others talk about their research at UH and at other universities.
"Presenting research in public is an important part of science. The symposium was a great opportunity to gain practice presenting my research," said Tarkington, who will present his research in September at the International Society of Protistologists Conference in Spain.
The feedback from attendees was positive, and Zufall says the group is planning a 2016 symposium for late spring.
"The students appreciated being able to present their research in a setting that was broader than their work environment but less stressful than a large research conference," Zufall said. "In contrast to international meetings, regional events provide the opportunity to learn about the work of people not directly in your field."
- Kathy Major, College of Natural Sciences and Mathematics