In PNAS: Fox, Stepanov and Colleagues Address Evolution of the Ribosome

Paper Published Online in Early Edition, June 30
George Fox, University of Houston professor of biology and biochemistry, and Victor Stepanov, a UH postdoctoral fellow, with colleagues from Georgia Institute of Technology and the National Taiwan University, published the "Evolution of the Ribosome at Atomic Resolution" in the Proceedings of the National Academy of Sciences (PNAS). Ribosomes are large molecular structures found in the cells of all species.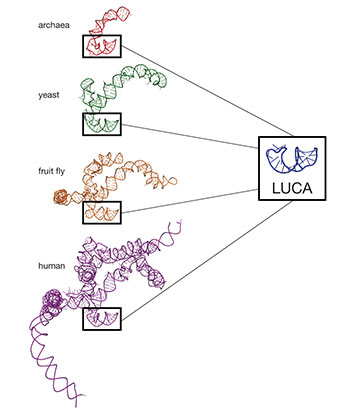 Image Credit: Loren Williams/Georgia Institute of TechnologyThe paper published online in PNAS' Early Edition on June 30. The study was sponsored by the NASA Astrobiology Institute and the Center for Ribosomal Origins and Evolution at Georgia Tech.
In the study, the scientists compared three-dimensional structures of ribosomes from a variety of species of varying biological complexity, including humans, yeast, bacteria and archaea. The researchers found distinct fingerprints in the ribosomes where new structures were added to the ribosomal surface without altering the pre-existing ribosomal core, which originated over 3 billion years ago before the last universal common ancestor (LUCA) of life.
The team extrapolated the process backwards in time to generate models of simple, primordial ribosomes.
In the paper, the authors stated the significance as:
Ribosomes exist in every cell and are responsible for translation from mRNA to protein. The structure of the ribosomal common core is highly conserved in all living species, while the outer regions of the ribosome are variable. Ribosomal RNA of eukaryotes contains expansion segments accreted onto the surface of the core, which is nearly identical in structure to that in prokaryotic ribosomes. Comparing eukaryotic and prokaryotic ribosomes allows us to identify 3D insertion fingerprints of the expansion segments. Similar fingerprints allow us to analyze the common core and detect ancestral expansion segments within it. We construct a molecular model of ribosomal evolution starting from primordial biological systems near the dawn of life, culminating with relatively recent changes specific to metazoans.
Metrics provided on the PNAS website show that news articles covering the paper appeared in several online news outlets in addition to blogs and other social media. Read about the research in the Science and Tech section of London's Daily Mail Online.
- Material excerpted from a Georgia Institute of Technology news release