Mindrebo Presents Poster at "Texas Undergraduate Research Day at the Capitol"

Event Showcased Experience of Students Engaged in Research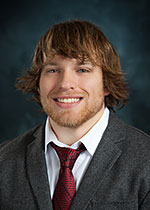 Undergraduate researchers descended on the state capitol in late April.
Biochemistry major Jeffrey Mindrebo was one of two University of Houston undergraduates who presented research posters in Austin on April 26. His poster, "Computational Docking and Analysis of Peptide Linked Inhibitors of Rho-Associated Kinase," covered research completed in the lab of James Briggs, associate professor and interim chair of the Department of Biology and Biochemistry.
The poster session was part of "Texas Undergraduate Research Day at the Capitol," an event highlighting how research conducted by undergraduates positively impacts Texas. Students from 50 institutions attended with their faculty mentors. While in Austin, Mindrebo also saw the Texas Legislature in action and met with some Houston-area representatives and staff members.
Mindrebo's project involved the study of Rho-associated kinase isoform 1 (ROCK1), an enzyme involved in pathways that lead to heart disease. It is a sought-after target for therapeutic drug treatment.
"In this project, we computationally model and design drug inhibitors for this enzyme," he said. "These simulations give us an idea of how these drugs are interacting with ROCK1, with the ultimate goal of impacting how drugs can be designed to provide treatment for heart disease."
Mindrebo, who will graduate in December 2013, plans on entering an M.D./Ph.D. program. He encourages all undergraduates to take advantage of opportunities to do research.
"Research is one of the best ways for students to help define themselves, develop skills and techniques, create a confident, self-assured attitude, and expand their knowledge in any discipline beyond what they would ever have found in a classroom," he said.
The event in Austin was coordinated by the Council of Public University Presidents and Chancellors, the Independent Colleges and Universities of Texas, Inc., and the Texas Association of Community Colleges and conducted with the support of Rep. Dan Branch, chairman of the Texas House Committee on Higher Education, and Sen. Kel Seliger, chairman of the Texas Senate Higher Education 
Committee.
- Kathy Major, College of Natural Sciences and Mathematics