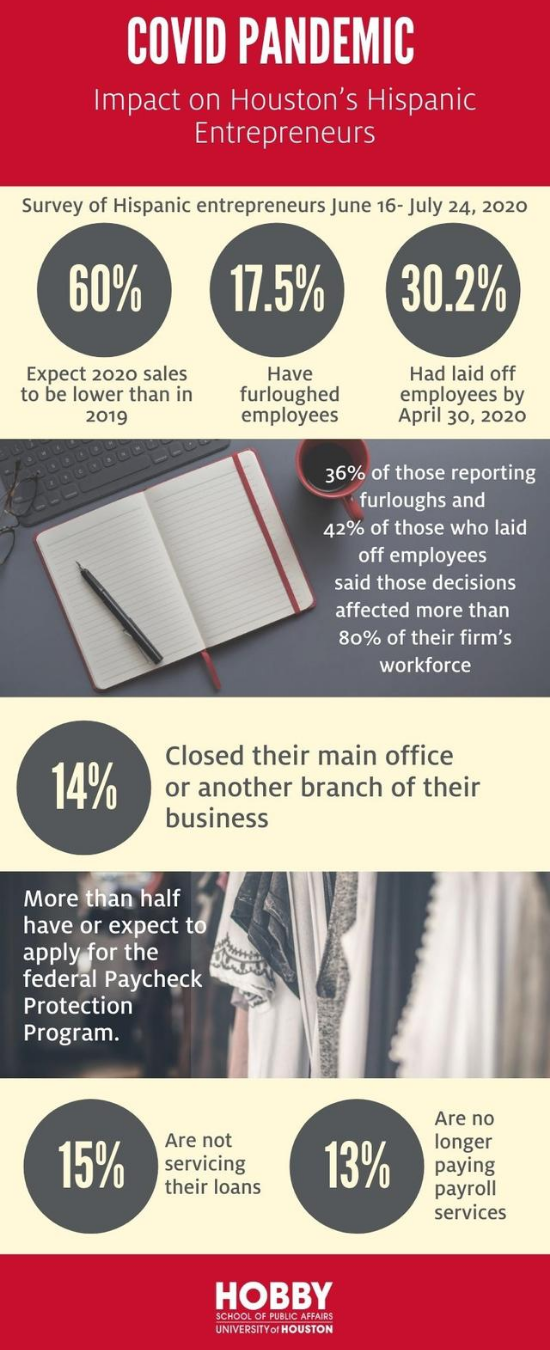 A survey of Hispanic entrepreneurs released Friday by the University of Houston Hobby School of Public Affairs offers the most detailed picture yet of how the COVID-19 pandemic has affected a crucial segment of the Houston region's business sector.
More than half of Hispanic business owners and leaders said sales had dropped since the pandemic took hold last spring, and more than one-third said they had furloughed or laid off more than 80% of their workforce. Many have reduced their payments to landlords and for other services, sending a ripple effect across the economy.
"Hispanic entrepreneurs are in dire straits today as a consequence of the pandemic and the resulting restrictions on business operations," said former state Sen. Kirk P. Watson, founding dean of the Hobby School. "Efforts to reopen the Texas economy helped to increase revenues, but these businesses have certainly not recovered."
The survey, done in partnership with the Houston Hispanic Chamber of Commerce, was conducted between June 16 and July 24. The majority of businesses represented reported revenues of less than $1 million in 2019. Just over half had five employees or fewer.
Hispanics are the largest ethnic group in the Houston area, making up almost 44% of the Harris County population. About 38% of small business owners in the metropolitan area are Hispanic.
"Hispanic entrepreneurs are the backbone of the regional economy," said Pablo Pinto, director of the Center for Public Policy at the Hobby School. "The experiences and needs of Hispanic business owners and professionals are crucial to understanding what is happening with the Houston economy and the strength of its recovery from the pandemic."
More than half of respondents said they have or expect to apply for the federal government's Paycheck Protection Program relief plan.
Among the other findings:
60% of respondents expect 2020 sales to be lower than in 2019; over half those reporting that sales would drop expect them to be 60% or less of their 2019 levels.
5% of respondents said their companies had furloughed employees, and 30.2% report layoffs by April 30. 36% of those reporting furloughs and 42% of those who laid off employees said those decisions affected more than 80% of their firm's workforce.
14% said they had closed their main office or another branch of the business.
11% reported they are no longer making rent payments for their businesses; an additional 14% said they are making partial rent payments. 13% are no longer paying for payroll services, and 15% are not servicing their loans.
The full report is available on the Hobby School website.
Laura G. Murillo, president and CEO of the Houston Hispanic Chamber of Commerce, said the work with the Hobby School is intended to offer important insights into Hispanic businesses.
"As go Hispanics, so goes Houston," she said.
Sunny M.C. Wong, an economist and professor at the Hobby School, said the survey documented the concerns of Hispanic entrepreneurs.
"The high level of uncertainty about what will happen in the local economy is making them more dependent on access to loans and government grants to make payroll and pay their bills," he said. "They are adjusting their business practices and working to increase their online presence to adapt to the new economic environment."
---