A marathon runner. A soldier. A physician. A mom. All are patients participating in a University of Houston Department of Health and Human Performance (HHP) study of a rare lung disease that strikes women exclusively, regardless of age, ethnicity, genetics or physical conditioning.  It's called lymphangioleiomyomatosis, or LAM for short. Characterized by cysts in the lung, tumors in the kidneys, respiratory failure and eventual lung transplant, the disease has no cure and limited treatment options. 
"This disease is hugely underrepresented," said Thomas Lowder, associate HHP professor and principal investigator. "There are maybe 100 researchers studying this disease in the country and about 1,500 patients in the U.S. with the disease that we know of."
Lowder, who studies the role exercise plays in enhancing pulmonary function, is examining how physical activity impacts the quality of life and disease progressions of those living with LAM. The participants engage in training sessions at HHP—lifting weights, running, sprinting and walking. They're re-assessed every three months.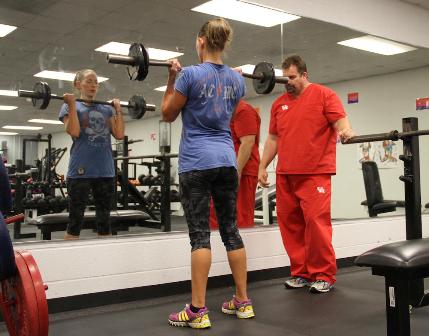 Patients were referred to Lowder by Dr. Khalid F. Almoosa, a practicing physician whose LAM clinic in The University of Texas Health Science Center at Houston (UT-Health) is one of only two in Texas. The two are working together to investigate interventions for LAM patients.
"We provide education to patients and some treatment, but we don't have data that tells us how exercise may impact their lung function. That is a new idea," he said. "Appropriate exercise can almost never be harmful, but we're hoping to find some support to make recommendations about exercise regimens for patients with LAM."
Almoosa's 24 patients are mostly from the Houston area, but some travel from as far away as Brazil and Honduras. "Claudia" was living in Georgia when she was diagnosed. 
"I didn't know I had this disease until I got an X-ray on my neck following a car accident I was in," she said. "The doctors happened to notice something not right on the tops of my lungs. I had never heard of LAM, nor, as I found out, had many others. When I found out about the clinic and study, I moved to Houston."
The HHP study has been ongoing for almost a year. The results have been positive, prompting Lowder to pursue larger grants for greater study and collaborating with other LAM clinics across the country.
"All of our patients are improving— better lung function and bone mineral density—which is awesome," Lowder said.  "This study isn't trying to cure the disease. We want to improve their quality of life in their daily activities and slow the decline in pulmonary function, so that if they do need a transplant, they can have it in three years instead of two years down the road."
Because there is very little known about the disease, both Lowder and Almoosa are hopeful that other studies can grow from this collaborative effort.  Future studies may examine sleep patterns, nutrition or drug treatments.
"Exercise may be a new intervention.  It's certainly practical," Almoosa said. "Can it mitigate the effects of this illness, prolong life and improve quality?  That's what I'm hoping to get out of this—another layer of help."  
---