The term "communism" conjures images of bread lines populated by Stalin-oppressed citizens desperate for survival in a cruel and morally-corrupt regime. Yet its forced proliferation into Eastern Europe marched in with little protest. 
Anne Applebaum, columnist for the Washington Post and Slate and author of "Iron Curtain: The Crushing of Eastern Europe, 1944-1956," will discuss how the regimes were created and what daily life was like for the men and women who endured it when she visits the University of Houston at 5 p.m., Wednesday, April 10 in the Honors Commons.  The event is free and open to the public and co-sponsored by the Hobby Center for Public Policy and the Honors College Phronesis Program.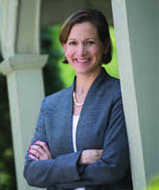 "It's a great honor for to us host such a renowned author and independent thinker," said Professor Tamler Sommers, co-director of Phronesis, "We're excited especially for our undergraduate fellows to meet with Dr. Applebaum.  All of the speakers have enjoyed these discussions, telling us how impressed they are with the intelligence and dedication of the fellows."
Applebaum is the acclaimed Pulitzer-prize winning author of "Gulag: A History" and a columnist at The Washington Post and Slate.    She is currently the director for politics at the Legaturn Institute in London. She also holds the Phillipe Roman chair in history and international affairs at the London School of Economics. 
For more information and to RSVP for the event, visit http://www.uh.edu/honors/honors-minors-programs/phronesis/news-events/index.php
About Phronesis: http://www.uh.edu/honors/honors-minors-programs/phronesis/index.php
About the Hobby Center for Public Policy: http://www.uh.edu/hcpp/
WHAT: "True Believers: The Nature of Collaboration and Opposition in a Totalitarian Regime"
Featuring Washington Post/Slate columnist Anne Applebaum
WHEN: 5 p.m., Wednesday, April 10
WHERE: Honors Commons, second floor of the UH M.D. Anderson Library
For directions and parking information, visit http://www.uh.edu/maps/buildings/?short_name=L
---