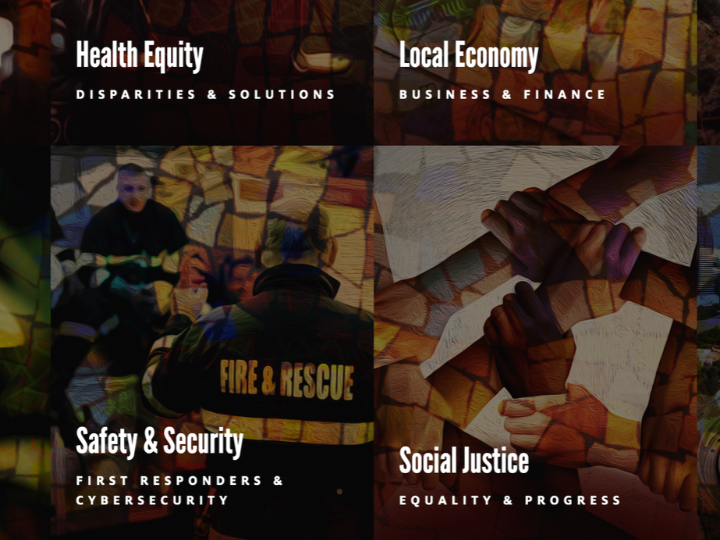 From combatting vaccine hesitancy and forecasting COVID's economic toll on Houston, to investigating ways to mitigate the impact of hurricanes and flooding, researchers at the University of Houston go beyond the borders of campus to address societal challenges, igniting meaningful change that improves the lives of Houstonians.
Tired of driving on cracked roadways? UH researchers have developed a new "smart cement" technology to revolutionize the construction world.
Air pollution from refineries and transportation got you short of breath? The University monitors air quality to inform regulatory and policy-making entities.
Now everyone can learn about these innovations and discoveries with the launch of Research Reaching Houston, an online collection of projects that demonstrates the resounding impact of UH's research endeavors on the local community. The stories cut across a diverse range of areas, including community health, regional environment, health equity, social justice, local economy, urban infrastructure, natural disasters, and safety and security.
Amr Elnashai, UH vice president for research and technology transfer, envisions the portal as a valuable resource for policy decision-makers, industry leaders, journalists and the citizenry at large.
"The research priorities of the University of Houston are set by the challenges facing its community around the campus, in Houston and within a Texas context. Setting our research sights on our community challenges has led to the great advances that our faculty have made in addressing the challenges of health and prosperity, of human capacity-building, of social justice and of infrastructure development. The research snippets we share today are a testament to the commitment of our professors and of our university leaders to Houston and Texas," he said.
When a fog of uncertainty fell over Houston's energy sector during the COVID-19 pandemic with workers worried about their livelihoods and the future of the industry, psychology professor Christiane Spitzmueller and her team jumped into action to explore the impact. Her study findings highlighted the biggest concerns among workers and provided employers in the energy sector with a comprehensive overview of how to address and alleviate those issues, while keeping spirits high.
With prescription drug misuse only intensifying during the pandemic, students at the College of Pharmacy worked with more than 700 pharmacies in Harris County to provide pharmacists education on counseling for controlled substances, how to use the prescription monitoring program, discuss options for safe drug disposal and provide options for patients experiencing symptoms of a substance use disorder.
"Prior to our involvement, counties were the smallest unit of analysis used to designate whether there were prevention resources available in an area. We collected the service areas of all organizations in the state based on their ZIP codes then mapped them. We were surprised that only a small fraction of Harris County was actually covered by a prevention organization," said Doug Thornton, director of the Prescription Drug Misuse Education and Research (PREMIER) Center.
Dozens of stories like these featuring UH's multidisciplinary research ventures are available on the Research Reaching Houston website, showcasing how a public research university fuels a city as complex and diverse as Houston. Over the last decade, UH has propelled its research to the next level, earning Tier One status – a designation by The Carnegie Foundation for the Advancement of Teaching – indicating the highest research activity. Only 133 universities of America's approximately 4,700 institutions qualified for that prestigious designation in the latest report.
Building a research powerhouse that shapes lives and creates innovations for the greater good is also a primary goal of the University's new strategic plan, "Together We Rise, Together We Soar," announced earlier this year. This commitment to increase research and scholarly output will only help the region overcome its challenges, according to Elnashai.
"We invite our fellow Texans to explore the ever-growing stories on Research Reaching Houston website and to marvel at the ingenuity of the UH faculty and their commitment to their community," he said. "Just look at what can be accomplished when we partner with the city to truly make a difference for a better quality of life."
Homepage/newsroom photo courtesy: Getty Images
---