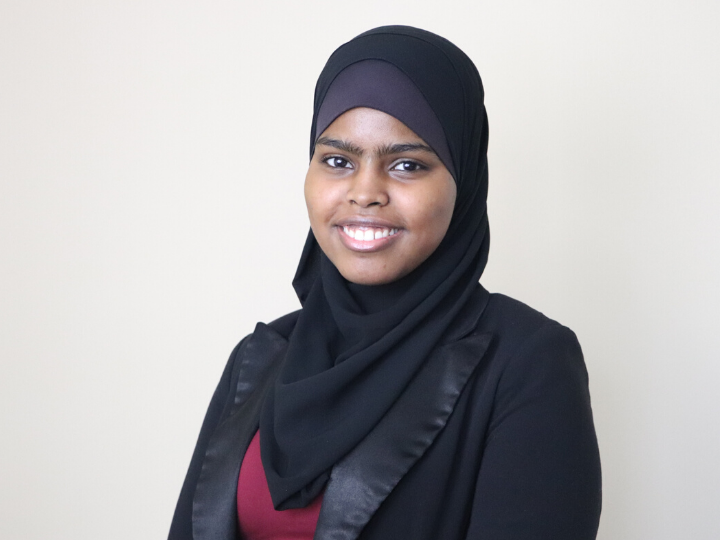 Hana Mohamad, a University of Houston Honors College student and psychology major, has been selected as a 2020 Frederick Douglass Global Fellow – one of just 10 college students from across the country to receive the prestigious award. The fellowship makes study abroad opportunities accessible to students from Minority Serving Institutions and is awarded based on financial need, academic achievement and nominations from university leadership.
"I have been looking for a way to study abroad ever since I arrived at UH, but finances were always a concern. This is a wonderful opportunity for minority students like me to develop leadership skills and learn about different cultures," said Mohamad, whose family is from Sudan.
The Frederick Douglass Global Fellowship was formed in 2017 to honor the African American social reformer, abolitionist, orator, writer and international statesman. Fellows are high achievers who show self-determination, have a commitment to social justice and a history of service to others. That's exactly how Johanna Bick, assistant professor of clinical psychology describes Mohamad. Mohamad is a research student in Bick's Laboratory of Early Experience and Development interested in learning how early life stressors, common in disadvantaged and marginalized families, influence physical and emotional health disparities.
"Hana has a maturity about herself. She is focused. She is ambitious. She is passionate about learning whatever she can to address how to best help underserved populations," Bick said.
Mohamad plans to be a physician assistant one day. But first, she and the other fellows will enjoy their study abroad program in Cape Town, South Africa. Originally scheduled for this July, the trip will now happen in 2021 due to the COVID-19 crisis. The fellows will participate in an intensive four-week, three-credit experience sponsored by the Council on International Educational Exchange. The scholarship covers all fees and travel costs.
"I am proud that Hana has been selected from more than 2,000 applicants as a Frederick Douglass Global Fellow," said Paula Myrick Short, UH senior vice president for academic affairs and provost. "Hana's scholarship and leadership skills make her an ideal candidate to represent the University of Houston."
Once Mohamad returns from her study abroad adventure, she is expected to share her experience and intercultural growth with peers and classmates at the University of Houston.
"It's all about changing your perspective," she said. "I feel like I need to put myself out there and take advantage of new opportunities that come my way."
---