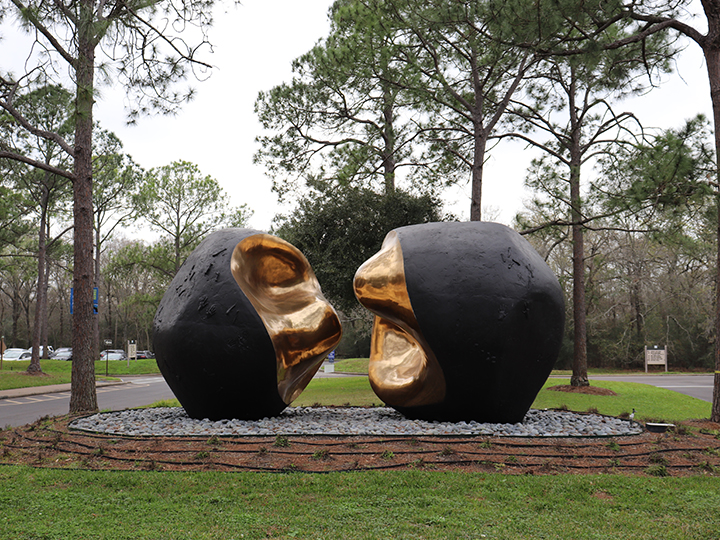 What are you doing for lunch on Friday, March 6? Go ahead and grab your walking shoes and join Public Art of the University of Houston System for a public art tour at the University of Houston-Clear Lake. Public Art UHS director and chief curator María C. Gaztambide and curator Mike Guidry will highlight some of the campus gems from noon to 1 p.m. Tour walks are free and open to the public. They begin with a brief welcome and introduction of the day's theme.
Notable works on the UHCL campus include: 
"Time the Bridge of Doors," 1979 , is an oil on canvas by Texas artist Dorothy Hood who brings a blend of New York abstraction and Mexican surrealism into her work.
"Spiritus Mundi," 1977, a bronze sculpture by Spanish sculptor Pablo Serrano that means "Spirit of the World," is one of the largest public art commissions ever executed by the artist.
"Moldable Subtractions," 2014

,

a concrete and powder coated steel sculpture by UHCL professor Jason Makepeace, is an homage to his love of coastal life. The piece explores the relationship between new and old technology as it applies to kayak design and fabrication.
"Tours offer the immediate university community an opportunity to learn about the singular examples of creativity and innovation embodied by the works in the Public Art UHS collection," Gaztambide said. "Participants are encouraged to come together around these treasures among us and to make their own connections. And, in the specific case of UHCL, they also help to introduce broader audiences to the university's beautiful, natural setting."
Public Art UHS tours are led by university professors, artists, curators, critics and students. Visitors get an opportunity to learn more about art, creativity and artistic movements. The Public Art UHS collection has nearly 700 objects on view throughout the UHS system including UHCL, University of Houston and its Sugar Land location, University of Houston-Downtown and University of Houston-Victoria.
WHO:  Public Art of the University of Houston System
WHAT: Public Art Tour
WHERE:  University of Houston-Clear Lake Bayou Building, 2700 Bay Area Blvd., Houston, TX 77058 (click here for map and directions.)  Visitor parking is located across the street from the Bayou Building.
WHEN: Noon - 1 p.m., Friday, March 6
Participants are encouraged to bring water, dress appropriately for the weather and wear comfortable shoes.
---