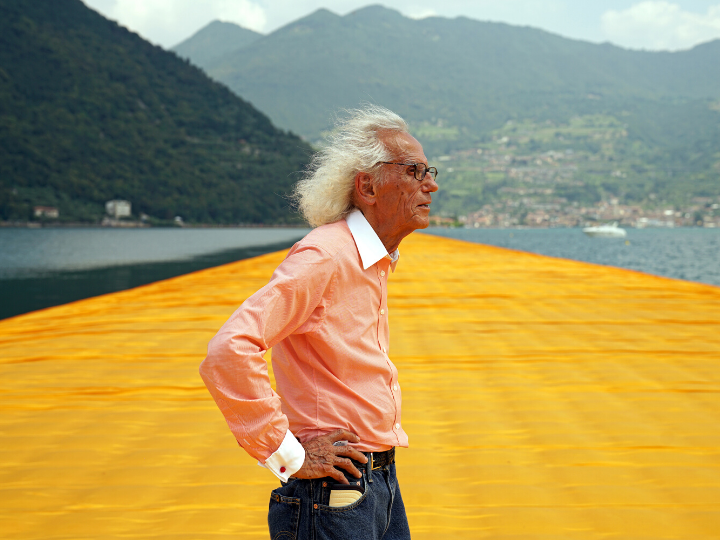 Public Art of University of Houston System is remembering Christo Vladimirov Javacheff, the artist known simply as Christo, who died May 31 at the age of 84. The Bulgarian-born artist's print "Texas Mastaba, Project for 500,000 Stacked Oil Drums" (1976) is part of the Public Art UHS collection.
Located at the University of Houston's University Computing Center, "Texas Mastaba" is a lithograph with silkscreen and collage inspired by ancient Egyptian mastabas, or flat-roofed rectangular tombs, made out of stacked barrels. Public Art UHS acquired the piece in 1981 as part of a portfolio of works by well-known artists called "America: The Third Century" to commemorate the United States Bicentennial.
"The print is a fairly insignificant object within Christo's storied oeuvre, yet it carries tremendous symbolic weight as a stand-in for one of his most ambitious projects," said María C. Gaztambide, director and chief curator, Public Art UHS.  
Conceived in the late 1960s for a site right here in the Houston/Galveston area, "Texas Mastaba" would have been Christo's first publicly scaled monument as well as the only permanent work ever created by the artist and Jeanne-Claude, his partner in life and art who passed away in 2009. After plans folded in Houston, Christo spent half a century searching for a site that continued to elude him: from Rome, to Kassel, Otterlo (in Holland), and Abu Dhabi; eventually realizing smaller-scaled temporary mastabas at Saint-Paul-de-Vence (2016) and London (2018).
Christo and Jeanne-Claude's mastabas were equal in ambition to their better known wrappings. Some of their wrapped public art projects include: "The Pont Neuf Wrapped" in Paris (1975-1985), "The Gates" in New York's Central Park (1979-2005) and "Surrounded Islands" in Miami's Biscayne Bay (1980-1983).  Per Christo's wishes, his latest temporary work of art in Paris, "L'Arc de Triomphe, Wrapped" is on track for September 2021. Both artists always stated that the purpose of their several lines of work was for art to be enjoyed by many and to bring a new creative perspective to familiar landscapes.
"Christo's commitment to taking art to uncharted terrains paved the way for many global contemporary artists working today," Gaztambide added. "At the same time, his unrelenting pursuit of ideas and early recognition of Houston's potential inspires those who call this city home to chase our own dreams."
---