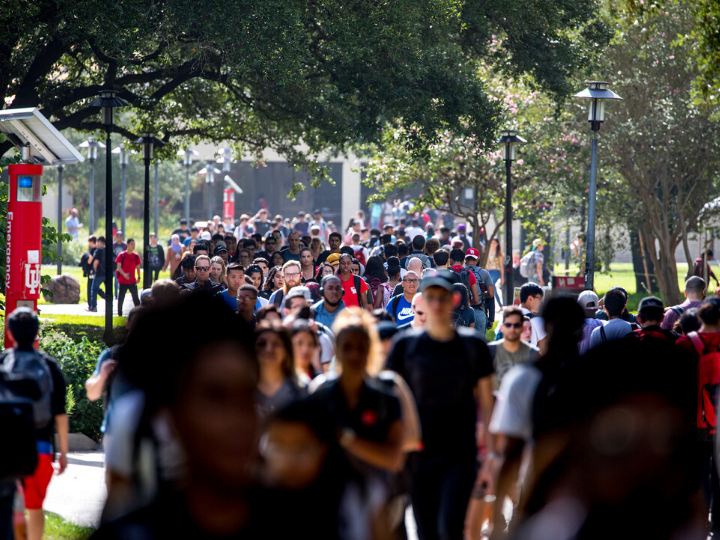 The University of Houston's commitment to ensuring students from low- and middle-income families have access to a quality college education grew even stronger with the expansion of the Cougar Promise financial aid program, first announced at the Feb. 27 UH System Board of Regents meeting.
Starting this fall, the University guarantees tuition and mandatory fees will be covered by grant assistance and other sources for eligible freshmen from families with adjusted gross incomes up to $65,000 — raising the program's income threshold by $15,000. In an effort to impact even more students who have a financial need, eligible freshmen from families with adjusted gross incomes between $65,001 and $125,000 will be eligible for tuition support ranging from $500 to $2,000 per year.
"Making college education affordable and accessible is at the foundation of our mission and critical for so many aspiring students across the income spectrum. By expanding our financial support program to reduce financial barriers, we will help more students fulfill their dreams of earning a college degree," said Renu Khator, University of Houston president.
Approximately 74% of UH undergraduate students receive some form of financial assistance. More than $285 million was awarded in financial assistance in 2019 from all sources— federal Pell Grants, Texas Grants, philanthropy through scholarships and institutional funds through budget priorities. Of that, $53 million came from UH need-based and merit-based grants and scholarships. Khator said the university's first priority is to ensure all UH students, regardless of their financial situations – are successful.  Nearly half of UH's enrollment is comprised of first-generation college students, the first in their families to attend college in the United States who often face significant financial challenges.
The Cougar Promise income threshold has more than doubled since the program started in 2008 when students with family incomes up to $30,000 were eligible. For Richard Walker, UH vice president for student affairs and enrollment services, the expansion of the program aligns with the well-established student-focused culture on campus.
"Every decision we make takes into account the needs and challenges facing our students," said Walker, who added that approximately 2,000 new freshman students will be impacted by the program each year. "We are always looking for new ways to provide support and guidance to fuel student success."
Cougar Promise is available for full-time freshmen who are admitted by January 15 for fall 2020 enrollment. They must qualify as a Texas resident and demonstrate financial need preventing them from covering the cost of tuition and fees. The program is funded through a combination of grants including Pell, Texas and institutional grants, along with various other resources as determined by the Free Application for Federal Student Aid (FAFSA) or the Texas Application for State Financial Aid (TASFA). To be eligible for yearly renewal, students must earn at least at 2.5 cumulative grade point average and earn a minimum of 24 credit hours per academic year. 
"Your family's income bracket shouldn't limit your ability to achieve a college degree. Talented people come from all socioeconomic backgrounds, so I'm thrilled there will be more financial aid available for those UH students who need it most," said Tilman Fertitta, chairman of the UHS Board of Regents.
For more information on Cougar Promise, click here.  
---