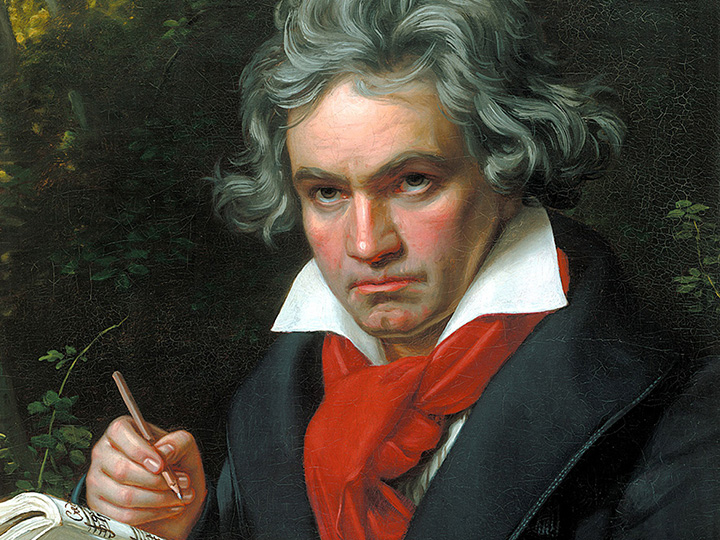 The University of Houston is uniting with symphonies and other musical organizations from around the world to celebrate the 250th anniversary of the birth of Ludwig van Beethoven — one of the most revered figures in the history of Western music. Beethoven 250 Houston 2020 runs Monday, Feb. 17 through Saturday, Feb. 29 on the UH campus.
The festival features performances by internationally renowned guest artists as well as lectures, workshops and seminars by some of the world's leading Beethoven scholars. There will also be a three-day symposium hosted by the Texas Society for Music Theory and the Southwest Chapter of the American Musicological Society. Click here for the list of guest scholars and schedule of events.
It was a performance of Beethoven's Sonata for Violin & Piano No. 9, Opus 47, commonly known as the "Kreutzer," that helped secure pianist Andrew Staupe a teaching position at the UH Moores School of Music. With just a half hour to rehearse for the audition, Staupe launched into the first movement of the piece. He will play the "Kreutzer" in its entirety to a much bigger audience during the festival.
"The music we are playing is broken up into three periods: the first period when Beethoven was under the influence of both Mozart and Haydn at the time; the Middle or 'Heroic' period, when he was going deaf and trying to fight fate; and the final decade of his life when he was completely deaf and his music was suddenly infused with far more serenity and peace than ever before," explained Staupe, who joined the MSM faculty last year.
"It's not an exaggeration to say that Ludwig van Beethoven is one of the seminal figures in the history of the Western world," said Andrew Davis, dean of the Kathrine G. McGovern College of the Arts. "It's a tailor-made occasion for a major research university with fine arts programs like ours, with built-in opportunities for teaching, interdisciplinary scholarship and performances."
Beethoven was born in December 1770 in Bonn, Germany and died in Vienna, Austria in March 1827. He's considered one of the great geniuses for many reasons, one of which was the extraordinary music he composed while completely deaf. Beethoven's most recognized works include "Symphony No. 5," "Fur Elise," "Moonlight Sonata" and "Eroica: Symphony No. 3." He's also the first major composer to make a living as a freelance artist rather than being in the service of a court or church.
"This festival is a golden opportunity for audiences who may know his face and his name to dig in and understand why he's so famous," Staupe added. "He changed the course of musical language in the early 19th century. He's a permanent shadow on music."
---