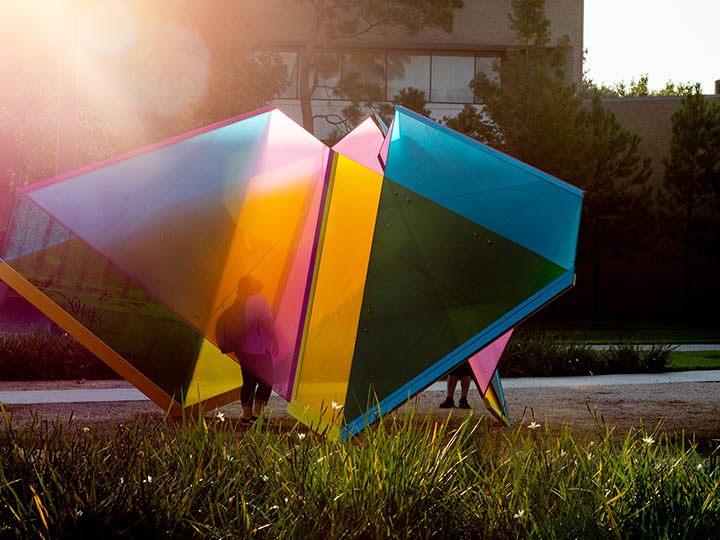 To the delight of public art enthusiasts and Instagram lovers alike, a new acrylic sculpture that was engineered and assembled in Houston is making its larger-than-life debut in the University of Houston Arts District. 
"Mobius Houston," by New York-based Uruguayan artist Marta Chilindrón, was specially commissioned by Public Art of the University of Houston System (Public Art UHS) for its inaugural temporary public art installation at Wilhelmina's Grove. The UH System is the first public university system in Texas to launch a formal temporary public art program. "Mobius Houston" will remain on view at UH for six months.
"With our Temporary Public Art program, we are really looking to position ourselves as a very unique platform where cutting-edge art, higher education and our diverse communities can converge," said María C. Gaztambide, Public Art UHS director and chief curator. "We want to provide opportunities for artists to experiment with materials that they may not have had the chance to use before, or experiment with issues of scale and medium to truly test new boundaries for themselves and expand the range of their own work."
For Chilindrón, who is known around the world for her vibrant-colored foldable, collapsible and transformable translucent sculptures, this piece is a significant step outside her comfort zone.  At 11 feet tall and 22 feet wide, "Mobius Houston" is a Texas-sized edition of her smaller 2013 "Mobius" series and her first large-scale public art project in the state.
"I think this piece is powerful because of its weight and size and we have to kind of submit to it," Chilindrón said. "It's so large and it's outdoors. I think the elements will play a great role. The sun and clouds will reflect colors all around it. It's almost like a stained-glass window."
Gaztambide, the Public Art team and the artist worked closely with a number of Houston-area plastic and steel fabricators who coupled traditional craftsmanship with emerging technology, such as computer numerical control machining and 3D modeling, to create what they believe is among the largest structural acrylic pieces ever created.
"It's a tremendous scale for this material. Each of the nine, one-inch-thick bi-color acrylic panels weighs about 600 pounds," explained Joe Meppelink, principal of Metalab, the design firm managing the "Mobius Houston" project. "There were some tremendous challenges with the geometry and accuracy needed over pieces as large as this and of course, joining the pieces together. It's what I would call a deceptively simple piece. It's a very pure, clean concept, but the execution of it was very tricky."
The establishment of a new Temporary Public Art program comes at an exciting time as the UH System celebrates Public Art UHS' 50th anniversary. In 1969, UH became the first university in Texas to adopt a Percent for Art  program. Today there are nearly 700 objects on view at the four UH System institutions: UH, University of Houston-Downtown, University of Houston-Clear Lake and University of Houston-Victoria, as well as the location UH serves in Sugar Land. You can learn more about the Public Art UHS Temporary Public Art program including where to find pieces in the collection by visiting the Public Art UHS website. 
---