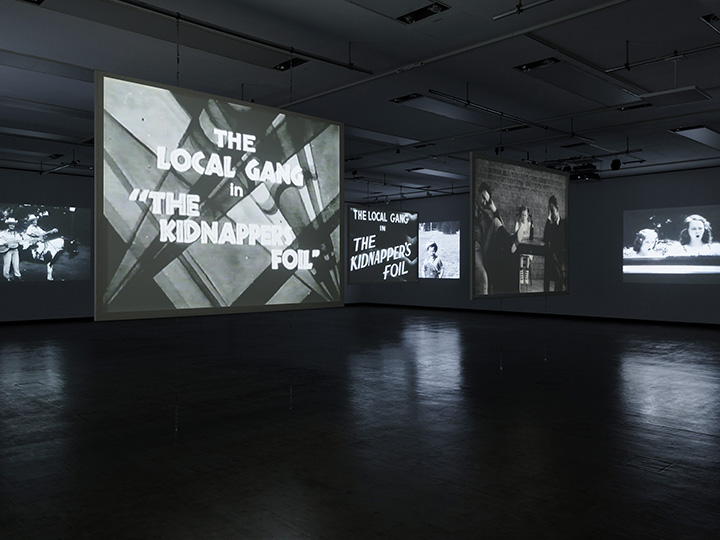 For 40 years – between 1936 and 1976 – amateur Texan filmmaker and entrepreneur Melton Barker traveled across the state, the South and the Midwest turning small town children into local stars by convincing communities to purchase time on the silver screen. He used a single script to produce hundreds of unique versions of the same film, entitled "Kidnappers Foil." Once the film was presented at the local cinema, Barker would leave the finished reels behind, drive to the next town and repeat his production process. Over 300 versions of "Kidnappers Foil" were produced — many of which have been lost forever.
Gareth Long, a Toronto-based artist, is lifting the curtain on a dozen of the well-traveled filmmaker's existing movie shorts in an immersive moving image installation at the University of Houston's Blaffer Art Museum. "Gareth Long: Kidnappers Foil" will be on view from Nov. 16-March 14, 2020.
This presentation is Long's first institutional solo exhibition in the United States. Visitors can expect to see 12 iterations of "Kidnappers Foil" playing simultaneously on hanging screens and the walls of the gallery space. The artist, who has a special interest in amateur production and histories of technology and mimesis, intends for the audience to experience the movies as historical documents rather than simply old films.
"You get to see the multiplicity of perspectives though time, place, geography and culturally through what everyone at the time is wearing and the cars people are driving," explained Max Fields, who co-curated the exhibition with Andrew Hibberd, a London-based curator, writer and researcher. "It wasn't Melton Barker's intention to see this as a collection. It's only through Gareth's presentation of all of these works together where you really get to see a unique history being played out across the country."
Much of the material came from the Texas Archive of the Moving Image and has traveled through different stages of media – from celluloid films to VHS to digital – showing how technology has advanced over the decades.
Steven Matijcio, Blaffer Art Museum director & chief curator, is especially excited about "the way this exhibition marries an endearing, but unheralded slice of homegrown American filmmaking with Long's incisive look into seriality, similarity, and the revelations hidden within repetitions."
---