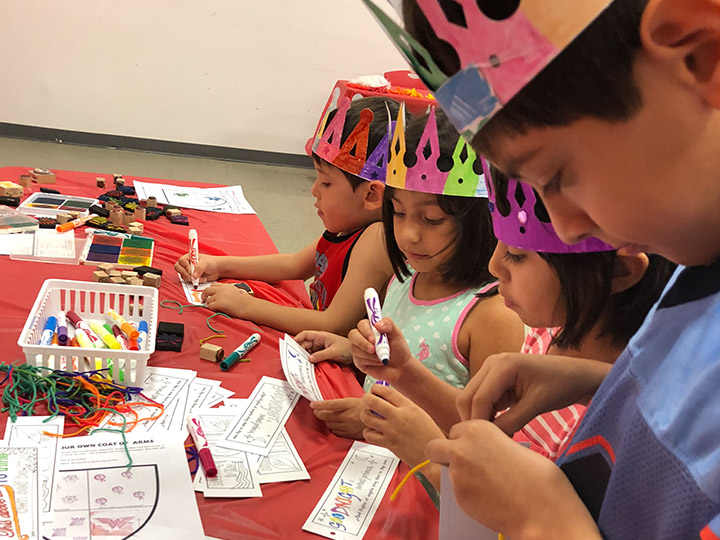 For the Houston Shakespeare Festival (HSF), all the world's a stage – including Houston Public Libraries. Beginning June 10, HSF teaching artists will participate in Houston Public Library's Camp STREAM. HSF company members will teach and arts and reading lessons to children of all at the camp, which focuses on science, technology, reading, engineering, arts and math. The camp runs every other week through Aug. 23 at six library locations across the Houston.
The HSF workshop will be offered to pre-k to high school students. Activities will range from arts and crafts – like making quill pens and crowns, to performances centered around interpreting Shakespeare's famous plays and speeches.
"We are going to connect with more than 700 children across the city and bring a bit of Shakespeare's language and world directly into Houston Public Libraries," said Cori Stevenson, HSF director of outreach. "It's all about books, and the library is the perfect setting to explore and be inspired by Shakespeare's works."
Camp STREAM will be the opening act for the 45th season of HSF, which runs August 2-11 at Hermann Park's Miller Outdoor Theatre (6000 Hermann Park Dr.) The annual summer stage tradition is produced by the UH School of Theatre & Dance and offers free performances.
The 2019 schedule is as follows:
"Julius Caesar" – Aug. 2, 4, 6, 8, 10 at 8 p.m.
"As You Like it" –Aug. 3, 7, 9, 11 at 8 p.m.
"We are presenting two of Shakespeare's most popular plays, and yet they could not be more different," said Rob Shimko, HSF executive director. "Our production of 'Julius Caesar' is a taut political thriller full of scheming and intrigue but also big ideas about how a people should be governed, plus Shakespeare's trademark soaring rhetoric."
In contrast, 'As You Like It'  is one of Shakespeare's funniest and most whimsical comedies. "It features one of his greatest female protagonists: the brilliant Rosalind. Anyone who wants to appreciate the enormous range of Shakespeare's creativity would be well served by checking out these two masterpieces."
Click here for more details about HSF. Information about tickets and the venue can be found on the Miller Outdoor Theatre website.
---