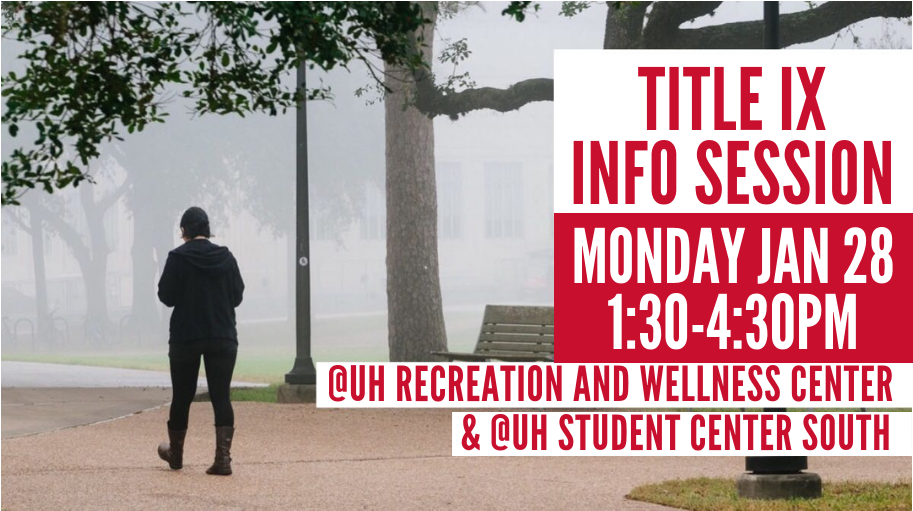 In November 2018, the U.S. Department of Education's Office of Civil Rights (OCR) released its long-awaited proposal outlining new regulations for how schools will handle sexual misconduct allegations. Some of the new guidance would require UH to update its policy on sexual misconduct in order to remain legally compliant.
In light of possible changes, UH will hold information sessions to inform the UH community on the proposed changes to federal interpretation of Title IX rules how schools will handle sexual misconduct allegations. Computers will be available for the campus community to submit feedback to the OCR. The sessions are Monday, Jan. 28, from 1:30-4:30 p.m. at the UH Student Center South and UH Recreation and Wellness Center. The public may also submit comments online directly to the Department of Education.
"Some of the recommendations are in line with our current procedures, including our commitment to a harassment-free campus," said Richard R. Baker, UH's Title IX coordinator responsible for responding to reports of sexual misconduct. "Once we hear about any sexual misconduct in the UH community, it is my job to stop it, prevent its recurrence and to address its effects. My role will continue, but how the university handles those cases may change."
The biggest changes proposed by OCR include:
A narrowed definition of sexual harassment
More opportunity for institutions to mediate and informally resolve reports of sexual misconduct
A higher bar on what evidence is needed to prove claims of sexual assault and harassment
Requiring all formal complaints of sexual misconduct go to a hearing
Limiting the school's Title IX jurisdiction to events that occur within a university program or activity.
"Currently, if there is a report of sexual harassment between two students, the University can investigate despite the location of where the alleged harassment occurred," Baker said. "Under the new guidance, it would no longer be within the UH Title IX jurisdiction unless the incident occurred within a university program or activity." Instead, he said, the University may review and act on those complaints under the Student Code of Conduct.
The Obama administration issued a controversial "Dear Colleague Letter" in 2011, interpreting Title IX — the federal law that prohibits sexual discrimination in education — as giving the federal government oversight over how schools handle allegations of student-on-student sexual assault and requiring that schools use the lowest standard of proof, a preponderance of the evidence, in those cases. Critics said it threatened due process rights of the accused.  Victims' rights advocates applauded.
In 2017, Secretary of Education Betsy DeVos withdrew the Obama-era guidelines and announced that new Title IX guidance would be developed. Victim's advocates have criticized the proposed rules, but others say they provide clarity and protect the rights of students. 
"Throughout this process, my focus was, is, and always will be on ensuring that every student can learn in a safe and nurturing environment," DeVos said in a statement shortly after the new proposal was published. "That starts with having clear policies and fair processes that every student can rely on. Every survivor of sexual violence must be taken seriously, and every student accused of sexual misconduct must know that guilt is not predetermined."
Baker said final guidance has not been issued, as the Department of Education is  asking for public comment as part of the rulemaking process. The proposed Title IX rules could be revised before they are formally published.
"We want our community to make their voices heard," Baker said. "We are committed to having policies that remain legally compliant and provide due process, as well as keep our campus safe and free from discrimination and sexual misconduct."
---
To submit public comment on the proposed Title IX guidelines, visit https://www.regulations.gov/comment?D=ED-2018-OCR-0064-0001
For more information about submitting public comments to the Department of Education, visit https://www2.ed.gov/about/offices/list/ocr/docs/title-ix-nprm.pdf
---