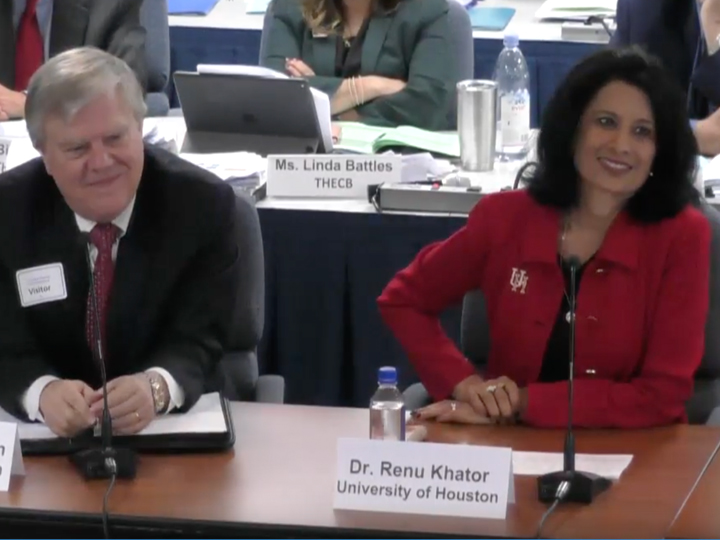 The Texas Higher Education Coordinating Board (THECB) unanimously approved today a Doctor of Medicine (MD) degree for the University of Houston, moving the UH College of Medicine one step closer to training more primary care doctors to practice in underserved urban and rural communities.
Texas faces a critical primary care physician shortage and ranks 47th out of 50 states in primary care physician-to-population ratio. The UH College of Medicine aims for a minimum of 50 percent from each graduating class to specialize in primary care compared to the national average of about 20 percent.
"We continue to take careful, well-measured steps forward, and receiving the Texas Higher Education Coordinating Board's endorsement is another clear indication that we are on the right track," said Renu Khator, president of the University of Houston.  "We look forward to sustaining this progress and playing a vital role in improving the overall health and health care resources of our city and our state." 
While assessing the readiness of the University to move forward with its proposed medical school, the THECB doctoral site visit team had a very positive and supportive response. "We quickly grew to have confidence in Dr. Spann's leadership and those he has hired to work with him," according to the post-visit report. "As a result, while many details have yet to be worked out, we have no doubt that this will be an excellent medical education institution that will prepare competent physicians to meet the healthcare needs of the citizens of Texas."
"The UH and Houston community is energized in support of this project. We are thankful that the Texas Higher Education Coordinating Board sees the validity of our mission to train physicians with a deep understanding of health disparities and social determinants of health," said Dr. Stephen Spann, founding dean of the College of Medicine. "We remain focused on recruiting top quality faculty while developing an innovative curriculum."
There are several critical steps remaining before the College of Medicine can open its doors to students. In December, the College of Medicine will submit its application for accreditation with the Liaison Committee on Medical Education (LCME), the federal accrediting body for medical degree programs. In January 2019, UH will seek $40 million in appropriations over 10 years from the Texas Legislature, approximately eight percent of the total $450 million in funding sources. The remaining startup costs include private support, intellectual property revenue, institutional funds and private/public partnerships. To date, UH has raised $35 million of $40 million in private philanthropy for the college.
The University is finalizing a partnership with HCA Houston Healthcare, the largest hospital company in the nation, to bring a total of 389 new resident positions to the College of Medicine over its first six years.
"The approval confirms this proposal's value and importance," said Peter Taaffe, vice chairman of the University of Houston System Board of Regents, which initially authorized the university's plans to develop the College of Medicine.  "This innovative medical program will not only help address the critical shortage of primary care physicians in our state, but also provide a beneficial model for future medical schools of this type."
Earlier this week, UH released a video featuring prominent leaders in health care and business acknowledging the need for a new college of medicine in Houston that leverages existing clinical, academic and research programs to create it.
---