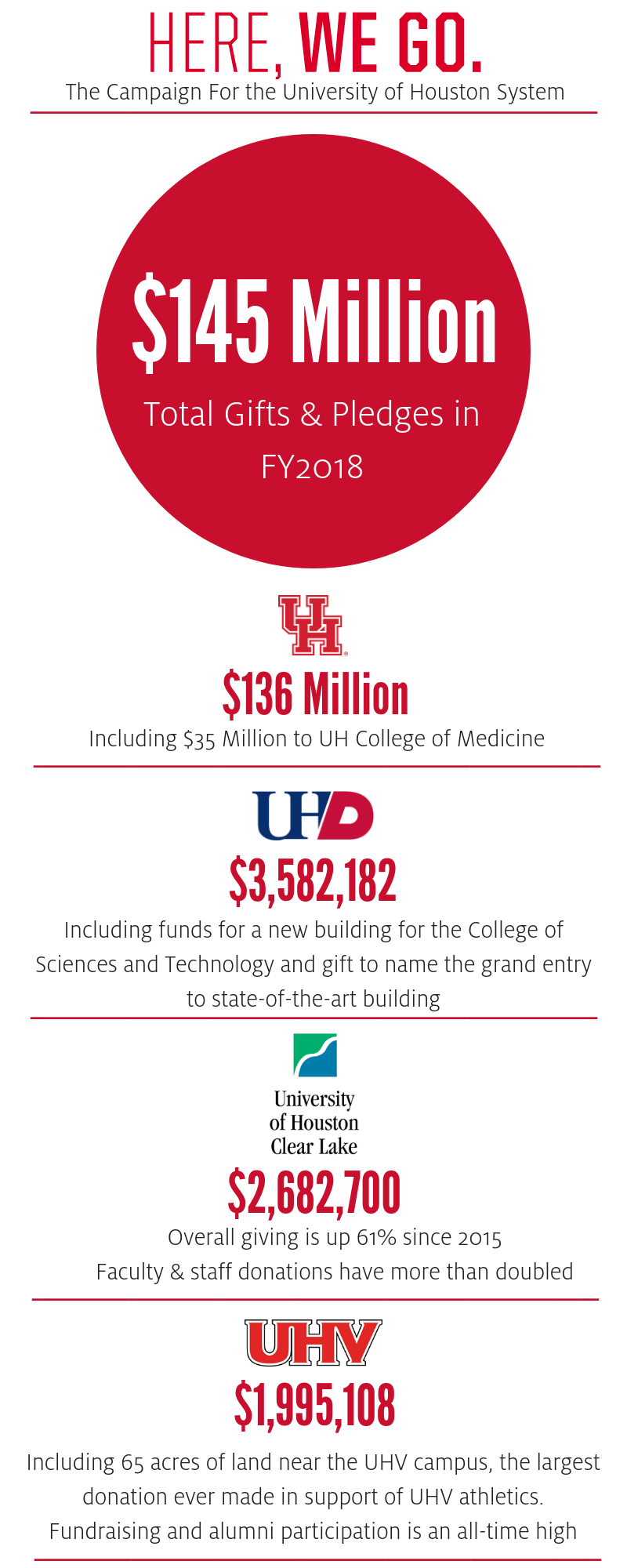 The University of Houston System raised nearly $145 million in private support in fiscal year 2018, the second largest total in UHS history, trailing only the previous year when the public phase of the historic $1 billion "Here, We Go" Campaign was launched.
The University of Houston (UH), the flagship of the UH System, raised nearly $136 million for key initiatives including student success, research, a new medical school and many more. Among UH undergraduate alumni donors, 36 percent increased their donation over the previous year while the median annual gift size nearly doubled.
More than $35 million has been raised so far for the UH College of Medicine, which aims to raise $40 million in private support. The College of Medicine joined the UH as its 15th academic college with a mission to address shortages of physicians in primary care and other specialties such as general surgery and psychiatry to improve health in communities with health care disparities. It is still pending state approval and federal accreditation.
"The significance of this tremendous financial support cannot be understated. Every gift contributes to the sustained growth of the UH System and we are truly grateful," said Eloise Brice, UH System vice chancellor for university advancement. "Exciting things are happening and our generous donors have a lot to do with it."
Since the "Here, We Go" Campaign officially began its quiet phase in 2012, $937 million has been raised as of October 15, 2018 from nearly 176,000 donors. Brice cited several significant gifts over the fiscal year that advanced strategic priorities including:
A $15 million gift from Humana Inc. created the Humana Integrated Health System Sciences The gift will also help defray start-up and operational costs for the College of Medicine, as well as fund endowed chairs at several UH colleges.
An anonymous $3 million donation to the College of Medicine will fund the full four-year tuition for the inaugural class of 30 medical students.
An anonymous $4 million gift to the College of Liberal Arts and Social Sciences (CLASS) will support its Creative Writing Program and will fuel research in the humanities and social sciences.
Retired Restaurateur Douglas H. ('75) and Holly Brooks donated $1 million through their family foundation to fund the Hilton College Center for Student Success.
Cemo Plaza at the Fertitta Center was funded through a $2 million naming gift made by Michael J. ('68, Honorary '17) and Rebecca Cemo.
William and Cherie Gibbs provided a $2.6 million bequest, split equally between the College of Natural Sciences and Mathematics and the C.T. Bauer College of Business.
The Brown Foundation, Inc. donated $1.5 million for a new temporary Public Art exhibition series.
Ronald ('68) and Jane H. ('68, M.B.A. '71, J.D. '79) Lerner donated $1 million to The Honors College to enhance study programs including study abroad, service learning and undergraduate research.
A $1 million gift from National Oilwell Varco will boost engineering research.
The University of Houston-Victoria received 65 acres of land, valued at $820,000, near the UHV campus in Victoria. This gift from the Bennett-Wood Family is the largest donation ever made in support of UHV athletics and the second largest in university history.
"It is our shared goal to keep each UH System institution on a targeted path to prominence, and that is only possible with the generosity of our supporters," said Renu Khator, chancellor of the UH System and president of the University of Houston. "To achieve big dreams, we need people to believe in our mission, and it's evident that many do – thank you."
University of Houston-Clear Lake: $2,682,700
Since 2015, overall giving has increased by 61 percent while the percentage of faculty and staff donors has more than doubled since 2015 – from 5 percent to nearly 11 percent in 2018.
University of Houston-Downtown: $3,582,182
UHD broke ground on a new building for the College of Sciences and Technology and received a gift of from Mark and Tami Mallett to name the grand entry of the building which will provide state of the art teaching and research labs, classrooms and collaborative study spaces for students in the natural sciences.
University of Houston-Victoria: $1,995,108
Overall fundraising at UHV reached an all-time record during the 2018 fiscal year and for the third consecutive year, alumni participation was at its highest on record.
---