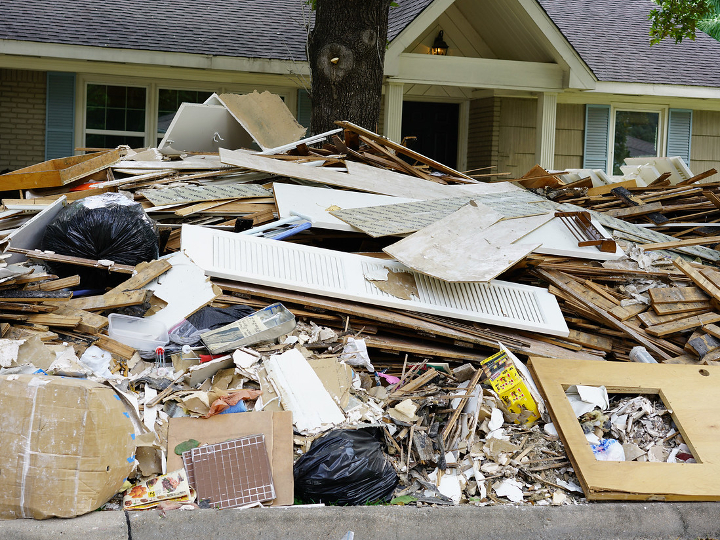 Almost one-third of Houston-area residents reported serious flood damage to their homes caused by Hurricane Harvey, according to the initial results from an ongoing survey conducted by the Hobby School of Public Affairs at the University of Houston. More than half said the historic storm had a negative impact on their household finances.
The survey showed some groups – parents, Hispanics and millennials among them – reported more negative impacts than others, from loss of income to devastating damage to their homes and apartments. Still, about 60 percent of people said they helped friends, family and neighbors during the storm and its aftermath. About one-third reported receiving help.
And almost 85 percent of Harris County respondents support building a new reservoir to protect west Houston and tougher restrictions on construction in flood plains.
The findings come from the first round of a long-term survey launched last fall to follow residents in Harris, Montgomery, Fort Bend and Brazoria counties over five years. The survey is intended to gauge both how individuals and neighborhoods recover and support for policies to prepare for future disasters.
The surveys were conducted between Nov. 20 and Dec. 20 with a randomized sample of people in the four counties by both landline and mobile phones.
Jim Granato, executive director of the Hobby School, said the results suggest strong support for policies to mitigate the damage from future flooding.
"Almost 85 percent of people in Harris County support both the construction of a new reservoir to protect West Houston and greater restrictions on construction in flood plains," Granato said. "We also found significant support for not allowing homes that have flooded multiple times to be rebuilt."
Support for those policies, however, did not necessarily translate into support for higher taxes to pay for the measures.  Almost half of Harris County respondents said they would not support an increase in property taxes or sales taxes; just 15 percent said they would support paying an additional $50 a year in property taxes to reduce flooding risk.
Among other findings:
More than one out of five residents in the four-county region – 22.7 percent – evacuated or tried to evacuate, most of them after the storm hit. Of those who did evacuate, more than 10 percent were rescued by emergency personnel or other first responders.
39.8 percent reported flood damage to their homes, almost half of whom said that damage was extremely serious or very serious. 31.5 percent reported flood damage to a vehicle.
57 percent said they lost income or sustained unplanned expenses because of Harvey.
About 75 percent of residents relied on television news, including station websites and the Weather Channel, leading up to and during the storm. About 65 percent relied on radio news reports. Millennials relied far more heavily on social media than older residents.
Full survey results are available on the Hobby School website.
Renée Cross, senior director of the Hobby School, said the results back up Houston's reputation as a city of people willing to help other residents, both through volunteerism and through support for public policies to address future flooding.
"Despite the fact that so many people lost homes, possessions or paychecks to the storm, almost two-thirds of people said they did something to help their fellow Houstonians," she said. "Volunteerism is in Houston's DNA. First responders are not alone."
---